The police in Chicago have apprehended a suspect in a mass shooting at a Halloween party, where 15 people were shot in the early hours of Sunday morning in the North Lawndale neighborhood.
Officers from Chicago PD responded, shortly after 1 a.m., to reports of shots fired at a party on the 1200 block of South Pulaski, where up to 100 people were enjoying a Halloween-themed event.
Partygoers pointed the police in the direction of where the shooter fled, and they managed to apprehend the suspect and recover the weapon used. The suspect was placed in custody and has not yet been named.
Fifteen people were injured in the shooting, with two of the victims described as being in critical condition. The other victims were described as being in fair to good condition.
Their ages ranged from 26 to 53 years old.
At a press conference yesterday, Commander Betancourt of the 10th district explained that the perpetrator had been ejected from the party but returned a few minutes later with a gun and began firing into the building.
Chicago PD made a speedy arrest in Halloween party shooting in North Lawndale
Betancourt also praised his officers for their hard work and quick response in arresting the suspect.
Watch the Latest on our YouTube Channel
The Commander also said the party venue had a history of organizing unlicensed events and said the investigation was ongoing.
Three local social media comedians reportedly organized the party, but the festivities were starting to wind down when the suspected gunman lost his temper at being thrown out of the party.
The partygoers were allegedly checked for weapons at the door.
One attendee, Tywon Tunstall, told ABC's Eyewitness News that everyone had been having fun shortly before the chaos started. Tunstall said, "We was in here, having a fun, good time. And, there was arguing. The party had to be let out. All you hear was gunshots. People ducking on the floor, women screaming."
Mayor condemns Chicago Halloween party mass shooting
Chicago Mayor Brandon Johnson issued a statement sending his sympathies to the victims and pledging to bring down the number of firearms on Chicago streets.
Johnson also lamented that this was not an isolated incident, stating, "This Halloween weekend alone, 11 people were killed in 12 mass shootings across the country from Tampa to Texarkana."
He also called for gun reform, arguing that "The proliferation of high-powered artillery is tearing the fabric of our nation."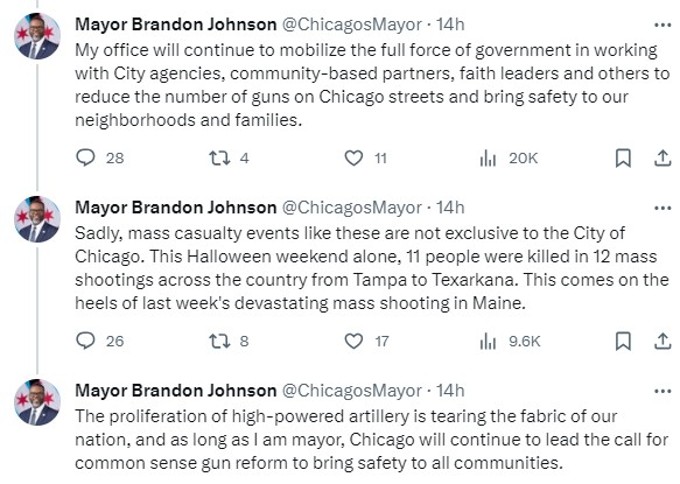 The city plans to hold an emergency assistance center for those affected by gun violence at the Young Mens Educational Network, 1241 S. Pulaski Rd.