Robert Lee Yates became known as 'the Spokane killer' and murdered at least 13 people, many of them prostitutes – Scene of the Crime with Tony Harris examines the investigation into some of his victims.
Robert Lee Yates grew up in Oak Harbor, Washington and after dropping out of college in the 1970s he got married and joined the army, where he served for 20 years as a helicopter pilot and later in the National Guard. His record was excellent, with over 5000 flying hours logged without mishap.
During this time he also divorced and remarried, having four girls and one boy with his second wife Linda Brewer.At some point this seemingly respectable and capable family man snapped and began a killing spree that would shock both the neighborhood and the nation.
However, as it turned out the truth was even more sinister, with Yates's killings dating back to 1975, when he murdered Susan Savage and Patrick Oliver, a couple who were having a picnic. He shot them both dead and although their bodies were found soon after, it would over 25 years before Yates's confession would solve their murder.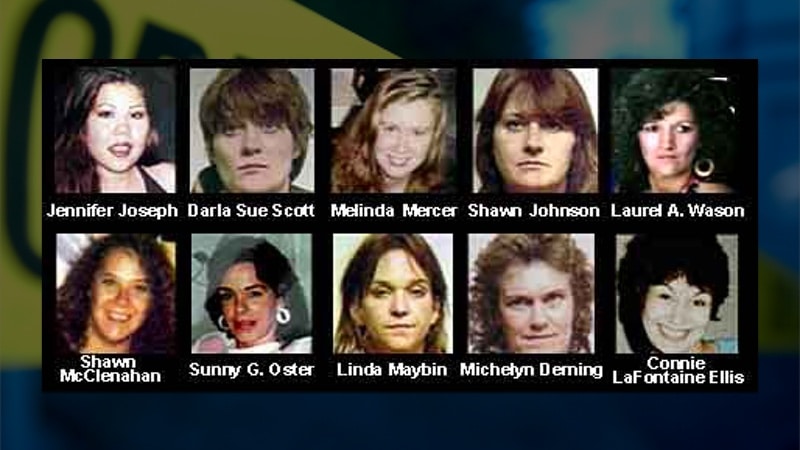 Yates's next victim was some 13 years later in 1998, when he murdered the first of many prostitutes that he liked to target. Stacy Elizabeth, 23, was shot dead in the summer of 1988 and her remains found in the winter.
In 1996 he murder Patricia Barnes and Shannon Zielinski, followed by Heather Hernandez, Jennifer Joseph, Darla Scott, Melinda Mercer, Shawn Johnson and Laurie Wason in 1997.
In 1998 he continued his murderous mission and shot dead Sunny Oster, Linda aybin, Melody Murfin, Michelyn Dering and Connie LaFaontaine Ellis.
Watch the Latest on our YouTube Channel
Detectives knew they were dealing with a serial killer pretty early on, though they initially believed that 16-year-old Jennifer Joseph was the first victim. Each crime scene was carefully examined with ballistic evidence, DNA and other materials gather from the victim's bodies.
Most of the women had semen recovered from them and it all matched to the same man.
A task force was established and eventually they got a break, when a witness told them that one of the victims was last seen getting into a white Corvette. Police cross-checked owners of white Corvette with men who'd been pulled over for picking up prostitutes. Yates came up in the search and he was pulled in for an interview, where he told some pretty obvious lies to the detectives.
He also told them that he'd sold his Corvette and that he was not that keen on giving them a blood sample. Police managed to track down the new owner of the car and asked to take a few fibre samples for analysis. These proved to be a close match for some taken from Jennifer Joseph.
The car was then brought in for full analysis and it turned up numerous blood stains and a white button that was very similar to one missing from Jennifer Joseph's clothing.
DNA from Yates was not forthcoming, but detectives managed to get some from his parent and the results suggested the attacker was very likely to be their child.
Yates was arrested on April 18, 2000, whilst on his way to work and charged with murder. He eventually confessed to murdering 12 women and one man, he also admitted to attempting to kill another person. This plea deal that saw him confess also took the death penalty off the table, instead he was sentenced to over 400 years in prison.
However, several of his murder were committed outside of Spokane County and Pierce County sought the death penalty for the murders  of Melinda L. Mercer and Connie Ellis. In 2002 Yates was found guilty and sentenced to die by lethal injection, though the current Washington Governor has said he would not sign any death warrants and Yates, now 56, has also made several appeals.
In a final twist, detectives found blood in his car that was not a match for any of his known victims and they believe he may have killed many more.
Scene of the Crime with Tony Harris: Down by the River airs at 10:00 PM on Investigation Discovery.