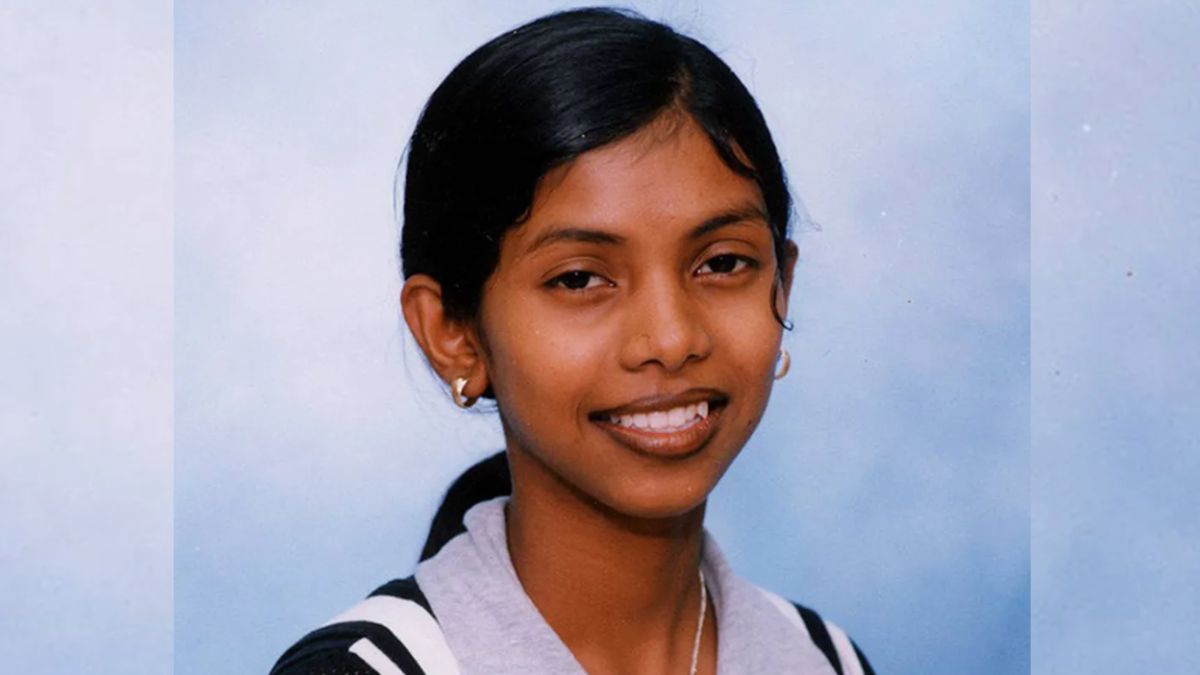 The Crime Junkie podcast features the case of 15-year-old Sharmini Anandavel, whose murder has been unsolved for more than two decades.
Anandavel was a ninth-grade student at Woodbine Junior High School, and she was looking forward to her upcoming graduation. But she was even more excited about the new job she was starting.
She told her parents that she was hired to answer phone calls. And the teen also said the job wasn't too far from their North York apartment in the Don Mills neighborhood of Toronto, Ontario, Canada.
Apparently, she told her friends a different story. Anandavel said she had the police offer her $12 an hour to participate in an undercover drug operation.
Anandavel was supposed to start work on the morning of June 12, 1999, and her parents were going to drive her there but were unable to.
Since she had to walk there alone, her parents told her to write down the name and address of her employer, but she left her fifth-floor apartment without doing what she was told.
The teen was seen walking to the Fairview Mall, which was two blocks away, and then to a plaza nearby.
Watch the Latest on our YouTube Channel
That was the last sighting of her.
Sharmini Anandavel was found dead after a months-long search
When Anandavel failed to return home that day, her parents called the police and reported her missing, which prompted a massive search by volunteers and law enforcement.
Four months later, on Oct. 12, hikers discovered skeletal remains, including a jawbone and a skull, in a ravine in the Don East parklands.
The bones were positively identified as those of Anandavel through dental records.
Detectives searched her home and found a blank job application from a fictitious company called the Metro Search Unit, which led them to believe that she may have been lured away.
When the police received information that a neighbor, a man named Stanley James Tippett, had offered Anandavel the job, they questioned him, but he said he had nothing to do with her disappearance.
Tippett was 23 years old at the time, and he was born with Treacher-Collins syndrome. He lived on the floor below Anandavel with his wife and child.
He was known to several of the children at the apartment complex because he would often interact with them at the community pool.
Police considered Stanley James Tippett the prime suspect
Police officials considered Tippett the prime suspect in Anandavel's murder, and they, therefore, interviewed him multiple times, searched his vehicle, and put him under 24-hour surveillance.
They also questioned people who knew Tippett, but despite their efforts, the police were unable to charge him with the crime because they didn't have enough evidence.
Fingerprints from the job application could have helped crack the case, the police said, but it was printed on thermal paper, which changes the ink when exposed to heat.
Tippett ended up selling his vehicle for $10 at a junkyard, and then he moved out of the apartment complex.
Since then, he has moved from city to city and had several run-ins with the law, including an incident in 2008 that landed him behind bars with an indeterminate sentence.
In December 2009, Tippett was found guilty of kidnapping, sexual assault, and sexual interference involving a 12-year-old girl.
He says he is innocent of the crime and has filed an appeal to overturn his conviction, but it was denied.
Tippett is currently at the Beaver Creek Institution in Gravenhurst, and no one has been charged in connection with Anandavel's murder.