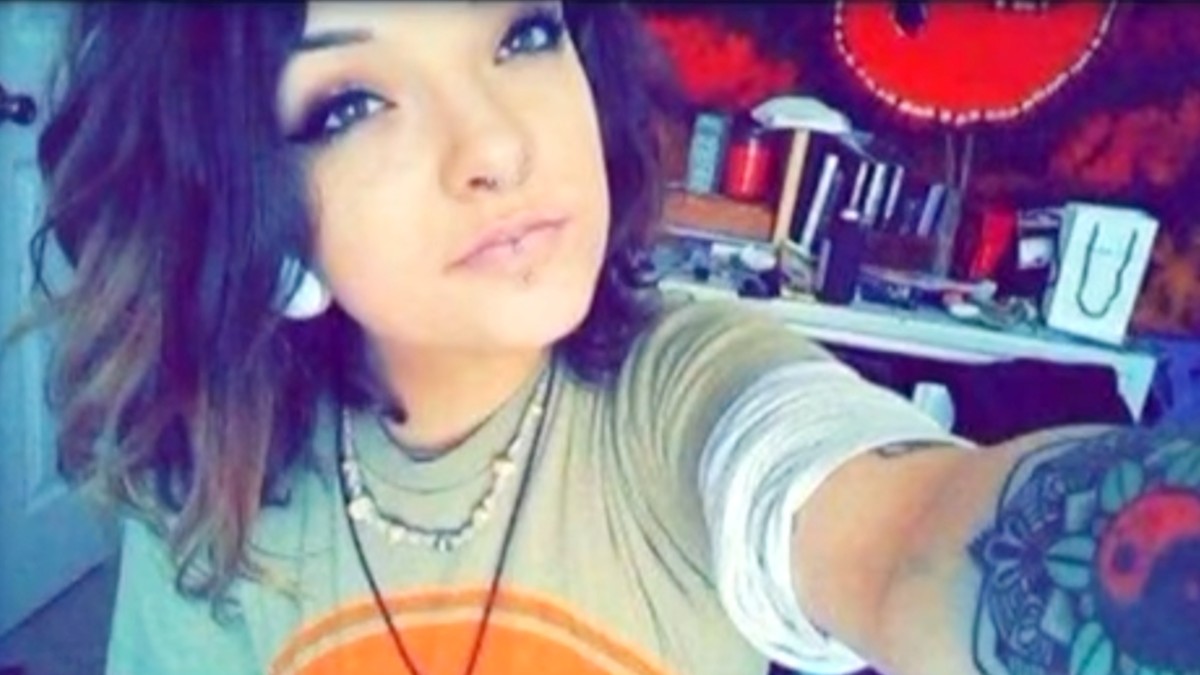 Joseph Michael Lopez murdered teenager Natalie Bollinger with a single gunshot to the back of her head. He then told officers that she had wanted to commit suicide and she had hired him to kill her.
On December 28, 2017, 19-year-old Bollinger was reported missing from her home in Broomfield, Denver, Colorado.
Her boyfriend had called the police and ominously informed them that his Glock 9 mm pistol was missing from the house.
Bollinger's remains were discovered a day later in the secluded wooded area of Adams County to the north of Denver. A passerby spotted her remains lying on the grounds of a dairy farm. She had been shot in the head, execution style.
An autopsy ruled that her death was unlikely to be suicide. It also found that she had a potentially lethal amount of heroin in her system, and tracks on her arms indicated she was a regular user of heroin and methamphetamine.
At the scene, the cops found a single 9mm casing shell, but there was no sign of the murder weapon.
Natalie Bollinger: Shawn Schwartz was an early suspect in murder case
The police had an early suspect in Shawn Schwartz, who had allegedly been stalking Bollinger in the weeks before she died. Schwartz was 22 years older than Bollinger and had known her for approximately two years.
Watch the Latest on our YouTube Channel
Bollinger had a permanent restraining order against Schwartz granted just two weeks before she was shot. She said he had sent her "hundreds of texts and calls" after she tried to break off contact with him. He had also driven "across the county" to see her and "slept behind her work for weeks."
However, Schwartz said he was willing to cooperate with police and offered to provide a DNA sample. He was soon ruled out as a suspect.
When investigators examined Bollinger's cellphone records, they found a new suspect. On the night she disappeared, she exchanged approximately 100 texts with Dominio's Pizza worker, Joseph Lopez.
When the police came looking for Lopez, he told the Adams County deputies that he knew why they wanted to talk to him. The investigators were then astonished by the story he told.
Joseph Lopez claimed Natalie Bollinger wanted to die
Lopez said he had met Bollinger for the first time on the night she died and that he had answered an advert she'd put on Craigslist asking to be killed. The teenager allegedly placed an ad on the Women Seeking Men section of the platform titled, "I want to put a hit on myself."
The killer said he picked up Bollinger at her home on December 28 and that she had brought her own gun. They agreed on a payment for the deed and went to find somewhere where Bollinger was prepared to die.
Lopez claimed that Bollinger told him she was having problems with her boyfriend and she wanted to die "on her knees … executed from behind."
The cops soon learned that Lopez had a problematic relationship with the truth and that his story changed multiple times. He initially said that he and Bollinger couldn't find a suitable place to carry out the shooting, so he took her home and never saw her again.
Joseph Lopez kept lying about what happened to Natalie Bollinger
However, the cops had used GPS to prove that Lopez had been at the spot where Bollinger's remains were found. Lopez then claimed that Bollinger had shot herself and he'd done all he could to stop her. He said she demanded he stop the car before she rushed into the wooded area and shot herself.
The investigators then countered his claim, citing the autopsy as ruling out suicide. Lopez, again, changed his story, admitting he had shot her.
The killer said they had both knelt down and said a prayer before he took aim. He said his hand was shaking, and he had to look away when he pulled the trigger. He then said he panicked, grabbed her purse and the gun, and fled the scene.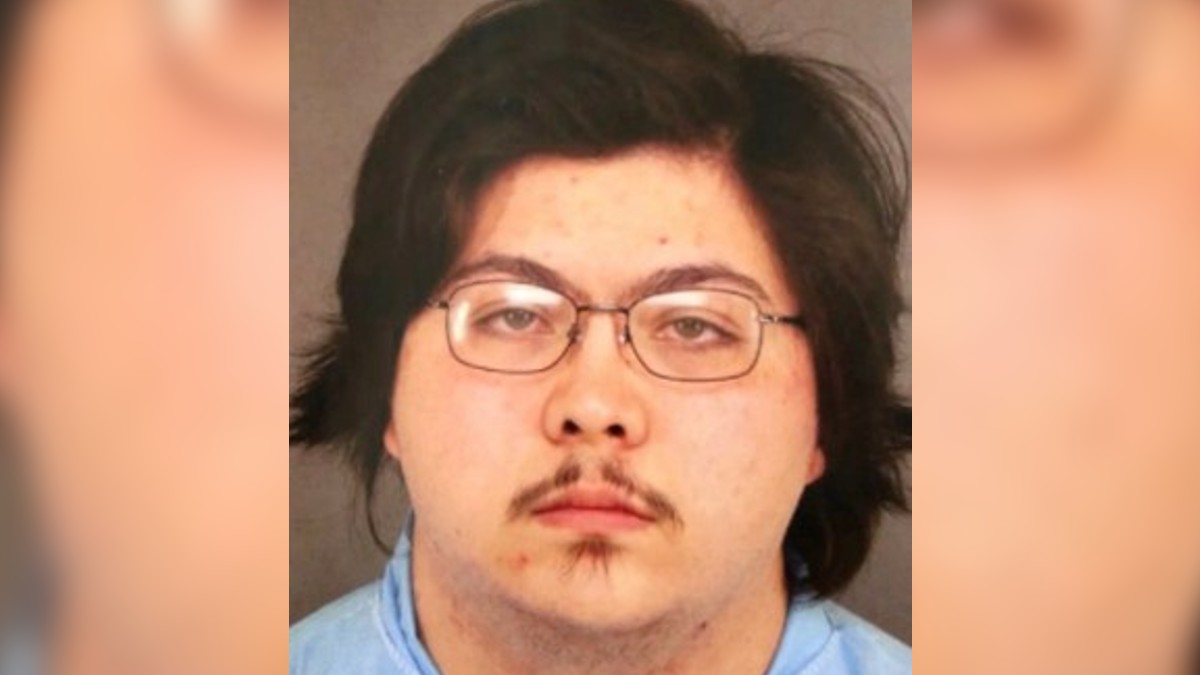 During the interview, Lopez volunteered snippets of info that were quite daming on his character, such as how he used to keep a journal in which he fantasized about kidnapping and torturing people before killing them.
Lopez was officially charged with first-degree murder.
Joseph Lopez acted like a 'predator' in Natalie Bollinger case
Prosecutors were shocked at Lopez's cold-heartedness toward his victim. If Bollinger was genuinely suicidal, Lopez had hours to contact the police or charitable organizations that could have helped her. Instead, he chose to kill her.
Chief Deputy District Attorney Ally Baber later told a court at his sentencing, "Natalie Bollinger was a 19-year-old girl with her whole life ahead of her. The defendant was a predator."
Baber added, "He didn't respond as a human being. He responded as a predator."
If Lopez were convicted of first-degree murder, then he would have faced a minimum sentence of life in prison or a maximum of the death penalty. Rather than face that prospect, and just a few days before the trial began, Lopez decided to avoid a jury and cut a deal.
Lopez pleaded guilty to second-degree murder and was given a sentence of 48 years plus five years probation. And crucially, he'll be eligible for parole.
The plea agreement caused a rift between the paternal and maternal sides of Bollinger's family. The maternal side said they were at peace with the sentence and relieved they would not have to face a possibly lengthy trial that may not guarantee a conviction.
Bollinger's grandmother, Denise Stuart, told CBS News, "What we took, we took because that was the most we could probably get without a jury agreeing 100 percent because that's what it would have taken for first-degree murder and life in prison."
Ted Bollinger said plea deal was like a 'spit' in the face
However, at the sentencing, Bollinger's father, Ted Bollinger, called the plea agreement a "spit in my family's face" and said, "My children could watch him walk out of prison. That is not justice. I will not see my daughter again, I will never get to speak to my daughter again.
At the time, Ted Bollinger was in police custody for a parole violation and was only allowed to speak to the court wearing shackles and a county jail jumpsuit. By coincidence, the father was housed in the same facility as Lopez.
He said, "They messed up by putting me in here because I got clarity in a lot of different things in my daughter's case. Joseph talked to too many people. He confided in too many people."
Joseph Lopez is currently housed at the Fremont Correctional Facility near Canon City, over 100 miles south of Denver.
Lopez is scheduled for release in 2064, when he'll be 69 years old. He will be eligible for parole from March 2052.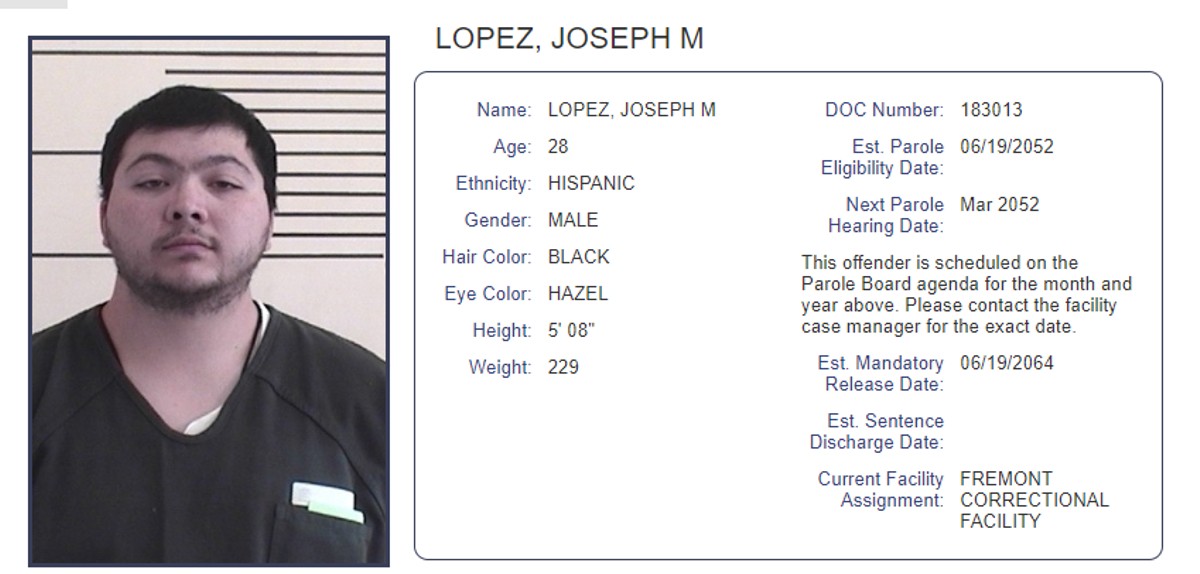 If you or anyone you know may be experiencing suicidal thoughts, please call or text 988 to reach the 988 Suicide & Crisis Lifeline, available 24 hours a day, seven days a week. Or use the Lifeline Chat. Services are free and confidential.