This week Homicide City examines the murder of aviation pioneer Courtlandt Gross and his wife Alexandra Van Rensselaer Devereux.
77-year-old Courtlandt was one of the main officers at the Lockheed Corporation, which he and his brother bought in 1932. Together they built it up into a huge enterprise and Courtlandt was at forefront of aviation innovation for decades, before retiring as chairman 1967. He even made it to the cover of Time magazine and was regarded as a legend in the industry.
Courtlandt and 68-year-old Alexandra lived in Villanova, Pennsylvania, where they enjoyed a comfortable lifestyle in their large mansion. They had one son, Courtlandt Devereux Gross, and Alexandra had a daughter from her previous marriage to Rodman Wanamakre.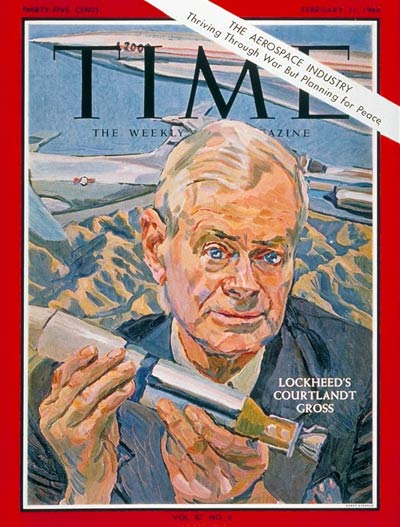 However, their peaceful retirement was shattered on July 17, 1982, when the couple and their housekeeper, 69-year-old Catherine O'Hara VanderVeur, were found shot to death.
The murders shocked the wealthy Philadelphia Main Line community and police began an intensive investigation.  In September they issued an arrest warrant for Roger P. Buehl, who was already in custody on robbery and firearm charges.  He'd borrowed a car from another criminal, car thief Joe Dwyer, who testified at the trial. This red Buick was spotted by different witnesses close to the Gross's home and the location of another robbery that was committed that day. Dwyer also admitted that he'd lent Buehl an automatic pistol, which was never recovered.
Forensics were able to match the bullets used to kill the couple and their housekeeper to the same armed robbery, where a tobacco shop worker was shot and injured, that Buehl had already been charged over. Buehl admitted to burgling a home in Worcester Township on the day of the murders, but he denied being involved in the killings.
However, the jury did not believe him and the 23 years old was found guilty of first-degree murder, with the recommendation that he face the electric chair.
Watch the Latest on our YouTube Channel
Homicide City airs on Wednesdays at 10:00 PM on Investigation Discovery.