We are reporting live from New York City at the historic Altman Building as the 2018 IDCon is underway.
When Investigation Discovery's first-ever IDCon was introduced a few years back, the event sold out in less than 24 hours; 7000 people were left on a waiting list. This event has the same insane waiting list according to chieftain Henry Schleiff, who was introduced after On the Case star Paula Zahn's rousing opener thanking the fans for braving the rain to attend the sold-out event.  Zahn has been an ID royal for nine seasons.
Here is what you need to know as we spoke with the "royalty" as Schleiff lauded "the face of ID" and added: "Few people have the empathy and respect Paula has."
Schleiff noted he relied on the fan feedback to inform the direction of the network quipping: "You definitely tell us what you don't like," adding: "You have made ID the number one network in America for women."
The event theme for 2018 is Cold Case Confidential and here are a few things we learned.
IDCon 2018 – Where is it?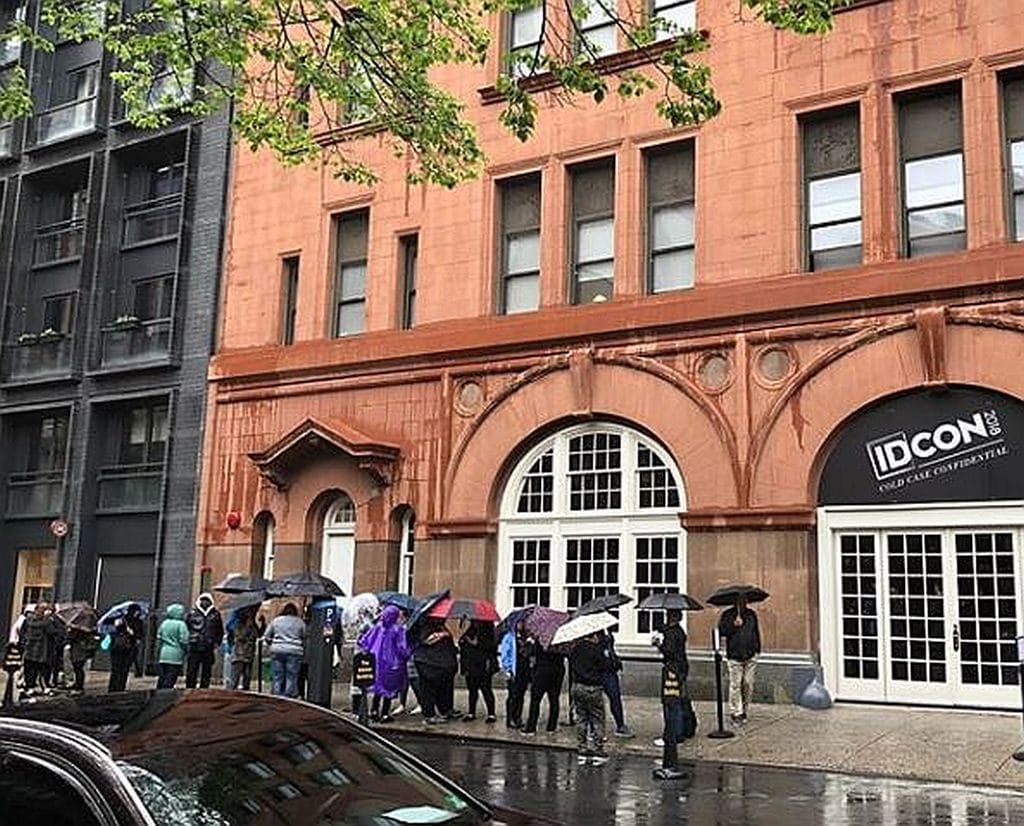 Investigation Discovery (ID) network's third annual sold-out event for true crime fanatics is taking place this Saturday, May 19 at the Altman Building in New York.
Who is participating at IDCon and what did they tell us?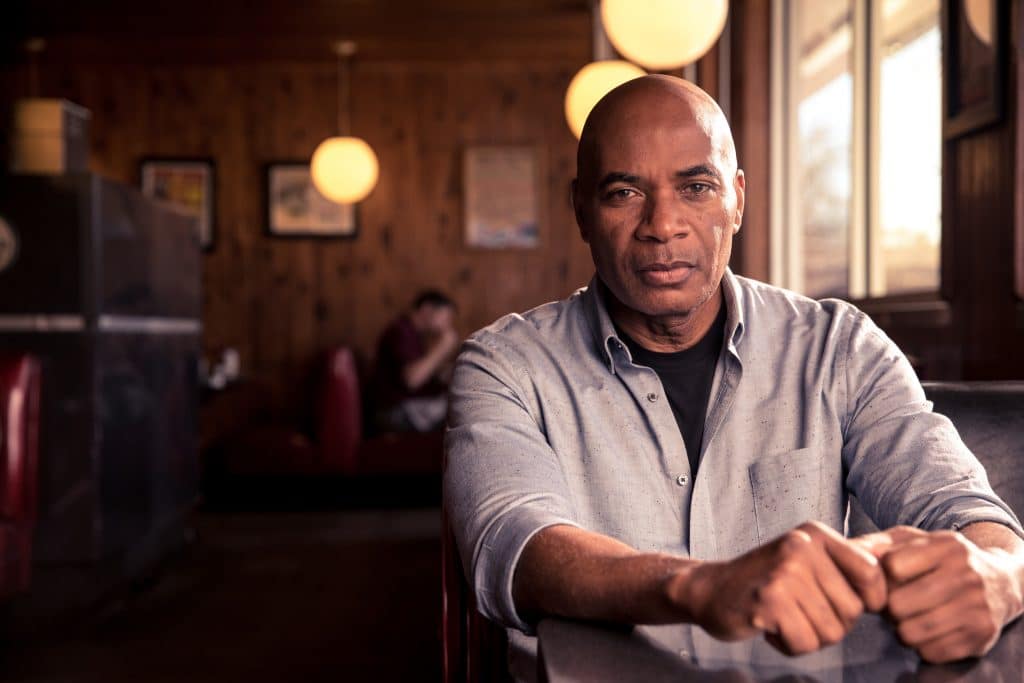 Esteemed journalist and host of ID's Scene of the Crime, Tony Harris, will emcee the event for the second year in a row, bringing true-crime lovers behind the yellow tape of their favorite TV channel.
Watch the Latest on our YouTube Channel
A jovial host that deals in the serious business of investigative journalism professionally, Harris is a gracious crowd-pleaser who's wit and insight adds to the fan experience and will lead the fans throughout the day's jam-packed schedule. This includes exclusive panels headlined by beloved ID personalities, sneak peeks at upcoming programming, and one-of-a-kind interactive experiences.
We spoke with Harris ahead of the doors opening for the fans and he gave big ups to retired Colorado Springs, Colorado, police department detective Joe Kenda, the one person at ID Con who seems to be the biggest draw.
"I'm always excited to introduce [Joe] Kenda because I know the reaction. Kenda is the rockstar of this channel. We've [IDCon producers] got this expression. 'People love Kenda's dirty drawers' Okay? They love everything about Joe Kenda and so I wouldn't be surprised if we get underwear being flung at Kenda tomorrow because he is a rockstar."
We asked why Kenda was such a popular ID talent. Harris said: "It is literally his voice. His delivery. It's his, 'I don't give a damn' attitude…he's done it all. He knows murder inside and out and he can smell a bad guy when they've entered the room. That's Joe Kenda. He's got the DNA of this channel [Investigation Discovery] all up in him. He really does. He's the rockstar of this channel."
We asked if Harris if he had ever consulted with Kenda for cene of the Crime.
"I have talked to Kenda. He is the person who said to me, 'when you're working on an investigation, [remember that] murder is about money, sex or revenge or some combination thereof. Those have been the signposts for me as I've worked on these seasons of Scene of the Crime. And as we take on these cases and we decide which cases to take on… I think that I channel Kenda and what he told me a couple of seasons ago, [when] I was still working on the Hate in America show [which] is when I first met Kenda and we started talking about these cases. 'It comes down to revenge sex and money.' Interesting, right?. Then sprinkle in a little hate for hate sake. But yes, he [Kenda] has been terrific. I've read his book. I always go to Kenda."
ID correspondent and journalist Diane Dimond  kicked off the first Cold Case Confidential panel lineup with Chris Anderson (detective for Reasonable Doubt), Garry McFadden (detective, I Am Homicide and the coming TV event, Bad Henry), Kris Mohandie (forensic psychologist, for Breaking Homicide) and Derrick Levasseur (detective for Breaking Homicide).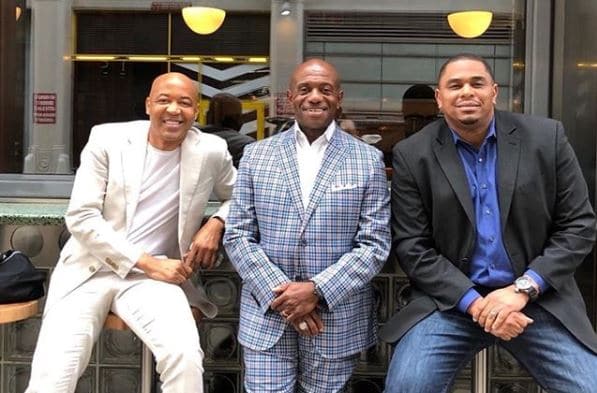 Privately, McFadden gave us a tease of what to expect on his coming new show, Bad Henry.
He said: "This coming Investigation Discovery show is called Bad Henry. It's about an African American serial killer in Charlotte, North Carolina, Mecklenburg County. Henry operated as a serial killer from 1992 to 1995.
I had been a homicide detective for two years. He began to kill women in Charlotte. We did not know we had a serial killer. We did not recognize that we had a serial killer until 1995 when we saw some similarities of several cases and we brought them together. And then we determined that we had a person who may have committed two to three murders, but doing our interview with him, he surprised everyone and told us that he killed about 11 women."
Another panel is titled Catching Killers delves into what actually happens on the frontlines of seeking justice.
Moderated by legal analyst Beth Karas, this panel boasts Candice DeLong (former FBI profiler, Deadly Women), Rod Demery (detective, Murder Chose Me), and Anna-Sigga Nicolazzi (prosecutor, True Conviction).
On why he chose law enforcement after dealing with the murder of his own mother as a young child and later his brother who was incarcerated for murder, Demery was candid and reflected on his career with us ahead of the panel and said: "I always think of law enforcement…as almost like medicine and of subsets of specialties. The more you got into it. I work in narcotics, which I thought was amazing because it was just fun kicking in doors and dressing up and all the cool guns. And then burglary and then sex crimes."
"But I knew I wanted to work on homicide when I worked my first. It was just such a natural fit. It's weird because I tell people that I just felt so natural. They say that I was supposed to be there, you know? I truly believe that it was spiritual. I believe God calls you to do something to some sort of ministry. That's what it was for me because it just felt right and everything worked."
Prosecutor and star of True Conviction, Anna-Sigga Nicolazzi gave us the jaw-dropper remark of the day when we spoke to her about the most memorable event of her career.
"There was a young woman who was killed and the two men that literally picked her up off the street, threw her over their shoulders, abducted her and tortured her physically and sexually and ultimately killed her. When they were brought to trial for her murder and for the abduction and the attempted murder of another woman…I tried the case with two juries. Because they had made statements in New York. I can't use what one defendant says against another so I had two juries in there, [and] it's a large courtroom. The [victim's] mother had just gotten off the stand on the first day of trial. It was very heart-wrenching testimony about the loss of her child. She was there to identify her daughter, but it was just very emotional for all of the jurors.
"And as they started to walk out of the courtroom, there was all of a sudden a commotion… and then the two defendants, one of them had brought in a homemade shiv, which is a homemade weapon they make in jail sometimes out of metal that they get. He had stabbed his lawyer in the neck. The other one had jumped. He was over six feet tall. It was Kayson Pearson and Troy Hendrix.
"He was about six foot five, give or take an inch. He had literally taken his foot and jumped over the table into the well where the court officers were in New York. There's one court officer that has a gun only in the courtroom, and he had gone to get his gun.
"It just so happened that at the same time, next door, there was the other ceremonial court and where they conduct these bigger cases and there were two detectives that had been killed and that trial was going on. So there was lots of law enforcement out there.
"All of this happened in seconds, but it seemed like time stopped and things I most remember after that is that because of the cousin of this young woman who I didn't know at all, I'd seen him. I'd met him and he was a young man, maybe 20.
"He jumped into the well and stood in front of me to protect me… because he knew what they were going to try to do. I'll never forget it because I didn't know him at all.
"I remember seeing literally like the cavalry coming in…I happened to know a lot of them because they were homicide detectives and detectives that I worked with and they just flooded the courtroom. The defendants were trying to get at me. They were trying to make their escape knowing they wouldn't get very far, but they didn't care. They just want it to get out. They were literally put down to the floor very quickly apprehended and, and that. But when I think about like that moment in the courtroom."
Following all this is the panel, People Magazine Investigates: Cults, which is moderated by editor in chief, Jess Cagle, as discussions will focus on terrifying cults with insights into criminal investigations that exposed the twisted inner-workings of these secretive sects. The panel will also see senior editor Alicia Dennis, staff writer Elaine Aradillas, and senior reporter Chris Harris.
Homicide Hunter and "rockstar" Lt. Joe Kenda will top it all off with emcee Tony Harris who will interrogate Kenda on his notable career in homicide.
What charity benefits from IDCon?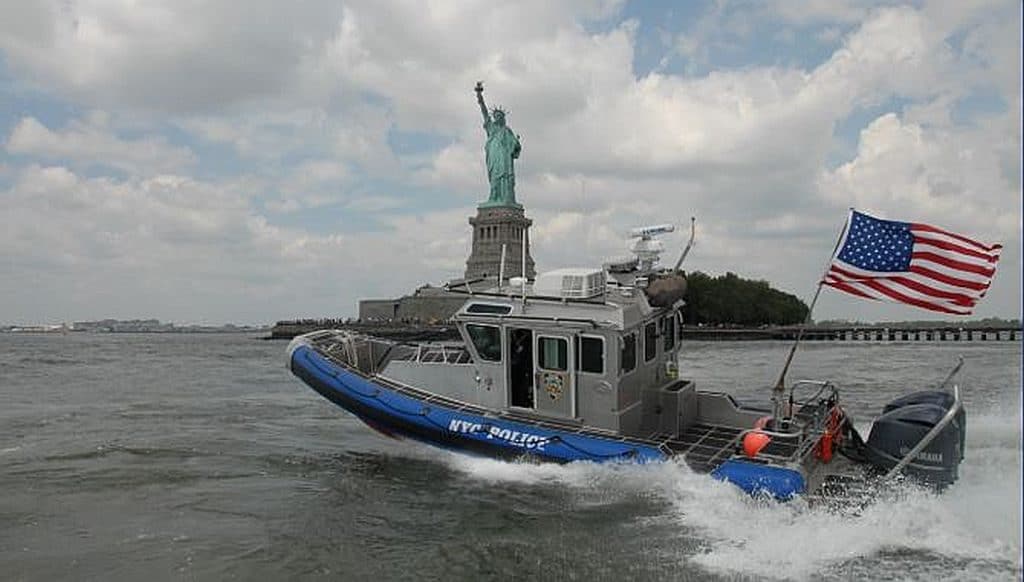 A great cause! All $50 ticket sales for IDCon 2018 will be donated to New York's Silver Shield Foundation, which sets aside an education fund for each surviving child of a fallen policeman or fireman to assist with tuition payments for all kinds of school, college and university undergraduate and graduate school, vocational and technical school, and tutoring services. This non-profit also keeps contact with the families to follow their children's education.
IDCon 2018 from Investigation Discovery is today, Saturday, May 19, 2018 from 10:00 AM to 5:00 PM (EDT) in New York, NY