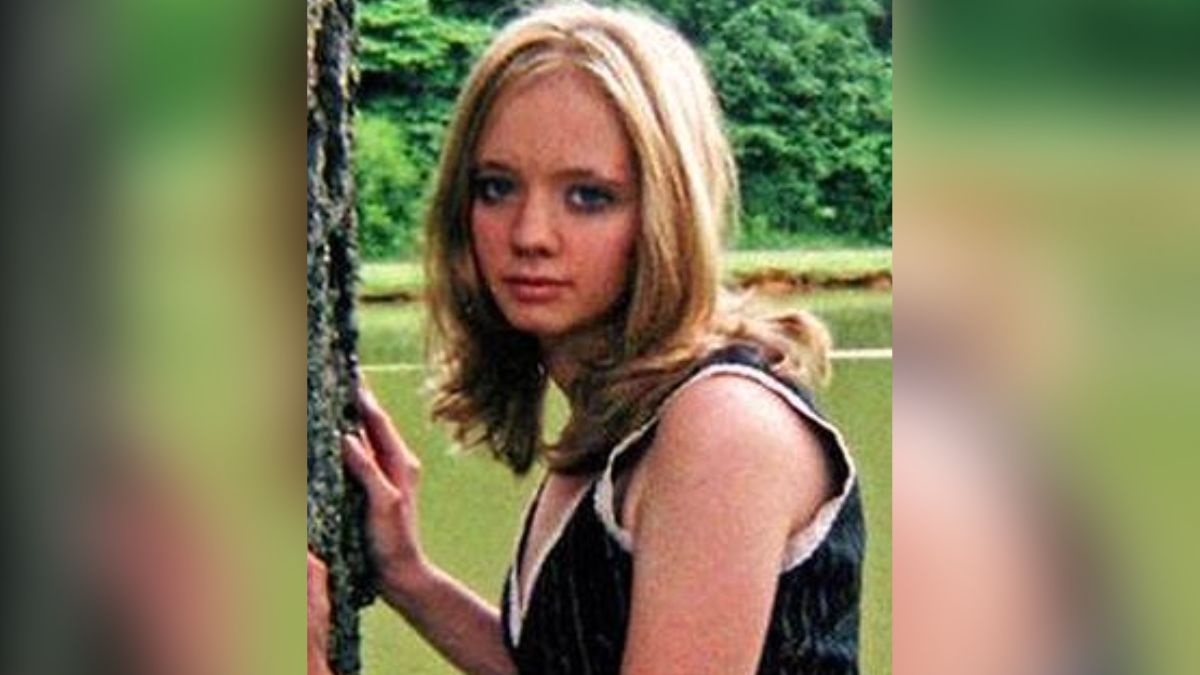 Jamie Fraley made headlines after she mysteriously disappeared, and months later, her fiance's dad, Ricky Simonds Sr., who authorities considered a person of interest, was found dead in the trunk of a car.
Relatives said the 22-year-old was diagnosed with bipolar disorder and had anxiety issues growing up. Jamie had a hard time dealing with it, but eventually, her response to medication improved.
She enrolled at Gaston College and hoped to one day become a drug and addiction counselor.
Jamie was passionate about helping people, specifically those addicted to drugs.
She wasn't a user, but she had several friends who were addicts.
In 2006, she started dating Ricky Simonds Jr., and later the couple got engaged and moved in together at the Copperfield apartment complex on Lowell-Bethesda road in Gastonia, North Carolina.
It wasn't long before Jamie was living on her own when a theft conviction landed her boyfriend behind bars.
Watch the Latest on our YouTube Channel
Simonds Jr. was sentenced to 15 months in prison, and it was during that time that Jamie vanished without a trace.
What we know about the day Jamie disappeared
Shortly after midnight on April 8, 2008, Jamie called her mother, Kim Fraley, and said she wasn't feeling well.
She had a severe case of the stomach flu and had already made two hospital visits within 24 hours.
Since she didn't drive, Kim asked if she wanted her to take her to the hospital, but Jamie didn't want to go.
There was an appointment with the Social Security Administration that she needed to go to the next day. Her healthcare provider was going to take her.
Jamie and Kim said they loved each other and said their goodbyes. They hung up the phone, and that was the last time Kim heard her daughter's voice.
At around 2 a.m., Jamie spoke with a friend on the phone and said that someone was going to take her to the hospital, but she never mentioned the person's name.
She referred to them as "he," and investigators said there is no evidence of her checking into the hospital for a third time.
On April 9, the healthcare provider went to Jamie's apartment, but the door was locked, and she wasn't there. That's when they alerted Kim, who contacted the police for a welfare check on Jamie.
The responding officers saw no signs of forced entry or anything suspicious that would prompt them to force their way into the apartment.
When Kim arrived at her daughter's apartment, along with an aunt and cousin, she saw vomit and noticed Jamie's purse, wallet, keys, and ID were left behind.
But Jamie's cell phone was missing.
Relatives repeatedly called Jamie's phone, but there was no answer until the following day when a man picked up the phone.
Jamie Fraley's cell phone was found on the side of the roadway
On the other end was a utility worker who said he was repairing lines at the intersection of New Hope Road and Hudson Boulevard when he heard the phone ringing.
Jamie's apartment was about a mile and a half from where her phone was located.
On April 11, relatives contacted the police department and reported Jamie missing.
Gaston County police wasted no time in launching an investigation. They questioned her friends and neighbors, including 49-year-old Simonds Sr., who lived in the same apartment complex as Jamie.
Simonds Sr. was a maintenance worker at the complex who had a lengthy criminal record. In 1986, he was charged with the first-degree murder of his 24-year-old ex-girlfriend.
She was found strangled to death at her home in Bessemer City. Simonds Sr. received a 20-year prison sentence, but in 1992, he was released on parole.
Investigators said they considered him a person of interest because he knew Jamie and lived nearby.
Ricky Simonds Sr. was found dead in the trunk of a car
When Simonds Sr.'s ex-girlfriend ended her shift on June 7, she headed home in her 2007 Ford Taurus. As she was driving, she noticed an odd smell but ignored it.
She noticed the smell again the next day when she was driving through the Bradford Heights neighborhood.
Later that evening, when temperatures reached over 90 degrees, she opened the hot trunk and found Simonds Sr. dead inside.
An autopsy showed that Simonds Sr. died from a heat stroke, and the medical examiner ruled his death an accident.
Investigators believe Simonds Sr. opened the trunk with a set of keys that was stolen from a purse that his ex-girlfriend had reported missing.
They found the keys in his pocket.
Simonds Sr. then climbed inside the trunk. He allegedly waited for an opportunity to attack her, but he ultimately lost consciousness before he could carry out the act.
The previous month, his ex-girlfriend filed a protection order against him so that he would stay away from her. In the document, she said that she and her roommate were afraid of him.
Was Ricky Simonds Sr. involved in Jamie Fraley's disappearance?
When Kim learned about Simonds Sr.'s death, she said she cried because he was the last person to see her daughter alive, and she believed he was withholding information.
She said, "I knew any questions we had for him, any information we could've got out of him, was gone."
Simonds Jr. also believed that his father, who he said was more like his friend, may have had something to do with Jamie's disappearance.
He said, "First my fiance goes missing, then my dad climbs in a trunk and dies? Does that make sense to anybody?"
Although Simonds Sr. was a person of interest in the case, he wasn't a suspect, as there was no evidence proving he was involved.
On the other hand, investigators said there wasn't any evidence to prove he wasn't involved.
One of Jamie's friends believed that Simonds Jr. was the one who held all the answers. She said, "I got the creeps from him right off. I just didn't like him. I had a weird feeling about him."
Jamie Fraley update: What is the latest we know about her?
Throughout the years, relatives kept Jamie's memory alive. On the third anniversary of her disappearance, the Kristen Foundation put up a billboard along Interstate 85 in Gaston County.
The following year, police officials renewed their search for Jamie, and in 2015, law enforcement reached out to the public again, asking if anyone had any clues that would help the case.
At one point, Kim received a photo of a woman who a tipster believed was Jamie. The picture reportedly came from a website where they place ads for female escorts.
Gaston County police checked it out but later found out that the woman in the photo was not Jamie.
On the tenth anniversary of Jamie's disappearance, Kim stated that she felt as though they were "running out of leads."
She said someone out there has information that could help solve the case, but they are choosing to hold on to that information.
As of 2023, Jamie has not been found, but Kim is hopeful that she is still alive and will one day return safely.
She said she would never stop searching for her.
At the time of her disappearance, Jamie stood 4-foot-8 inches tall and weighed around 90 pounds. She also had a tattoo on her ankle that said "Ricky."
A reward is being offered for information that will solve the case.
Anyone with information regarding Jamie's disappearance is encouraged to contact the Gaston County Police Department in North Carolina at (704) 866-3320.