Tonight's episode of The Night That Didn't End on Investigation Discovery centers on the disappearance and murder of a young single mother in Lame Deer, Montana, the tribal and government agency headquarters of the Northern Cheyenne Indian Reservation.
Hanna Harris, a member of the Cheyenne tribe, left her home on July 3, 2013, to attend a fireworks show with friends. The 21-year-old never returned home. Her badly beaten body was discovered on July 8 near the city's rodeo grounds. The cause of death could never be officially determined because her body had already started to decompose.
Hanna left behind an infant son, Jeremiah, not even a year old at the time of his mother's death.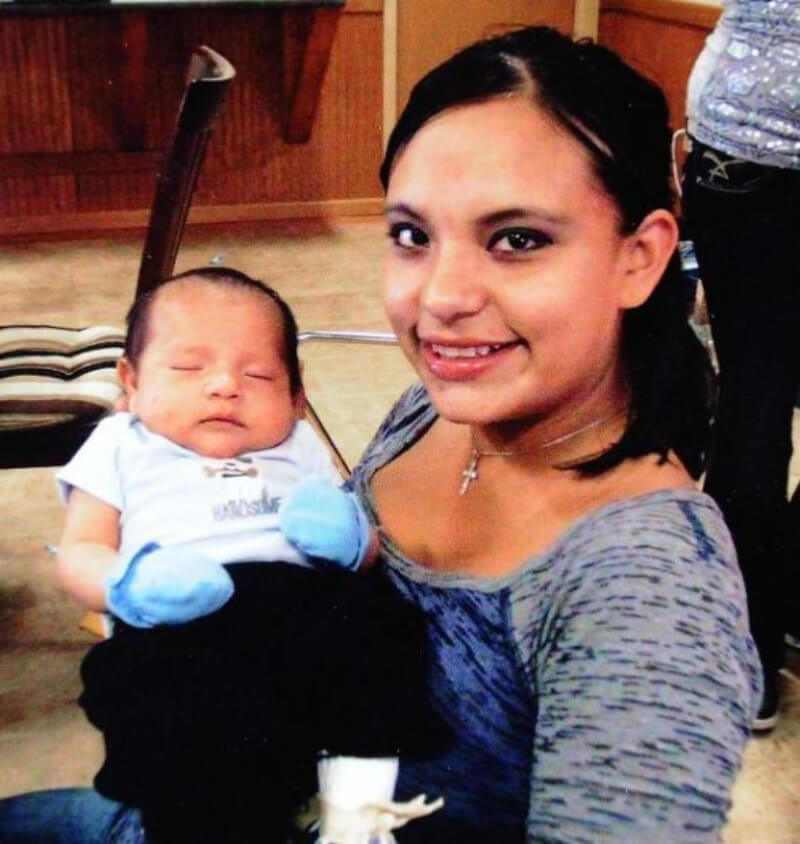 Hanna was spotted on a surveillance camera at the Cheyenne Depot, a convenience store, at approximately 1:30 a.m. on July 4, with a man and woman in her car with her. That was the last time Harris was seen alive.
Eugenia Ann Rowland and her husband, Garrett Sidney Henderson Wadda, were arrested in March 2014 over Hanna's murder. Eugenia Ann Rowland pleaded guilty to the crime of second-degree murder and sentenced to 22 years in prison with no possibility for parole.
She was also ordered to pay $13,215 in restitution to the family for funeral and other expenses.
Rowland originally claimed she blacked out and had no memory of what happened. However, Rowland's sister-in-law testified to a grand jury that she and Rowland had been drinking a few months after Harris' death, and Rowland told her that she had passed out that night after drinking heavily and woke up to Wadda and Harris having sex, with Harris — who had a 10-month-old son — screaming that she was being raped.
Watch the Latest on our YouTube Channel
Rowland allegedly tried to help Harris, but Wadda hit her, which made her mad. She and Wadda then proceeded to beat Harris to death.
Wadda originally pleaded not guilty to first degree murder and aggravated sexual abuse, but those charges were dropped in exchange for his testimony against Rowland. He pleaded guilty to accessory after the fact, saying that he helped move Harris' body.
Wadda admitted to hiding the body and destroying evidence to protect his wife and keep her from going to prison. Police found some of Hanna's clothing at Wadda's aunt's house. Wadda was sentenced to 10 years.
The murder went unsolved for nearly nine months, much to the dismay of Harris's anguished loved ones, who felt the authorities were slow to investigate from the get-go.
It was a search party that discovered her body, as law enforcement wanted to hold off until after the holiday weekend. Frustrated by the lack of progress in the investigation, her family held a rally not just to bring awareness to Hanna's unsolved murder, but to unsolved murders of all Native Americans across the United States.
Harris's family was unhappy with the sentences, with her mother telling Rowland that she discarded her daughter "like a piece of trash." They refused to hear Rowland's request to apologize to them at the hearing, choosing instead to walk out of the courtroom.
For the past two years, the U.S. Senate has declared May 5 the National Day of Awareness for Missing and Murdered Native Women and Girls. Hanna's birthday was May 5.
According to a 2018 study by sociologists at the University of North Carolina, Wilmington, and the University of Delaware, conducted for the U.S. Department of Justice, murder rates of Native American women are up 10 times higher than the national average for all races, and as of 2016 there were 5,712 cases of Native American women reported to the National Crime Center, with the possibility of many more unreported.
The same study also reports that Native American women are far more likely to be sexually assaulted and murdered on reservations compared to other American women.
The Night That Didn't End airs on Investigation Discovery on Thursday, December 20, at 10 p.m.