This week on Love and Hate Crime, the show interviews gang-member Josh Vallum who killed teenage transsexual Mercedes Williamson.
May 2015, George County, Mississippi, and 17-year-old Williamson went missing from the trailer she shared with a friend. Her partially decomposed body was eventually found after Vallum's dad reported to police that his son had possibly killed someone, it was discovered by police under some bushes in backyard of Vallum senior's home.
Latin Kings gang member Vallum pleaded guilty to killing the teenager and was given a life sentence by the judge, it is thought to he was quick to enter a plea to avoid fellow gang member having to testify.
In December 2016, 29-year-old Vallum pleaded guilty to the additional charge of murder as a federal hate crime, saying that he was fearful over what other members of the Latin Kings would think about him seeing the teenager.
Vallum admitted planning to kill Mercedes for two days after he found out she was transgender. He then attacked her with a stun gun before stabbing Mercedes repeatedly with a military knife and then smashing her with a hammer until she stopped screaming and pleading for her life.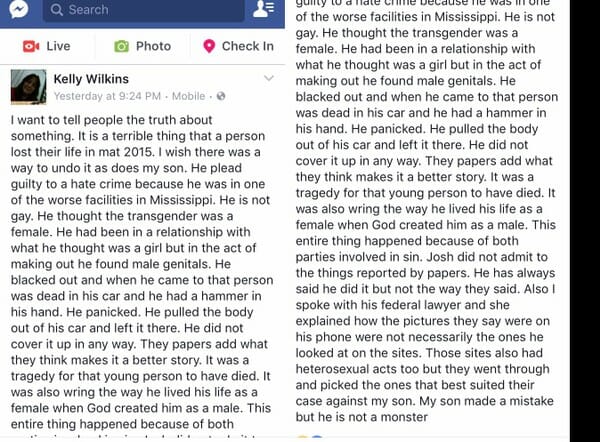 At the time his mother was very defensive of her son, posting on Facebook: "He is not gay. He thought the transgender was a female. He had been in a relationship with what he thought was a girl but in the act of making out he found male genitals."
However, prosecutors in the case say that an FBI data analysis of Josh's cell phone cache turned close to 100 images of naked men and that this could be the reason he pleaded guilty to the hate crime in addition to the murder, since homosexuality is forbidden in the Latin Kings and those breaking the rules are sometimes issued with a kill on sight order.
Watch the Latest on our YouTube Channel
Though his mother disputed this and said that the lawyer explained that there were also other heterosexual images on his phone, from the same sites.
The case was groundbreaking as it marked the first time in American history that a federal hate crime charge had been filed against the murderer of a transgender person.
Love and Hate Crime airs on Sundays at 8:00 PM on Investigation Discovery.