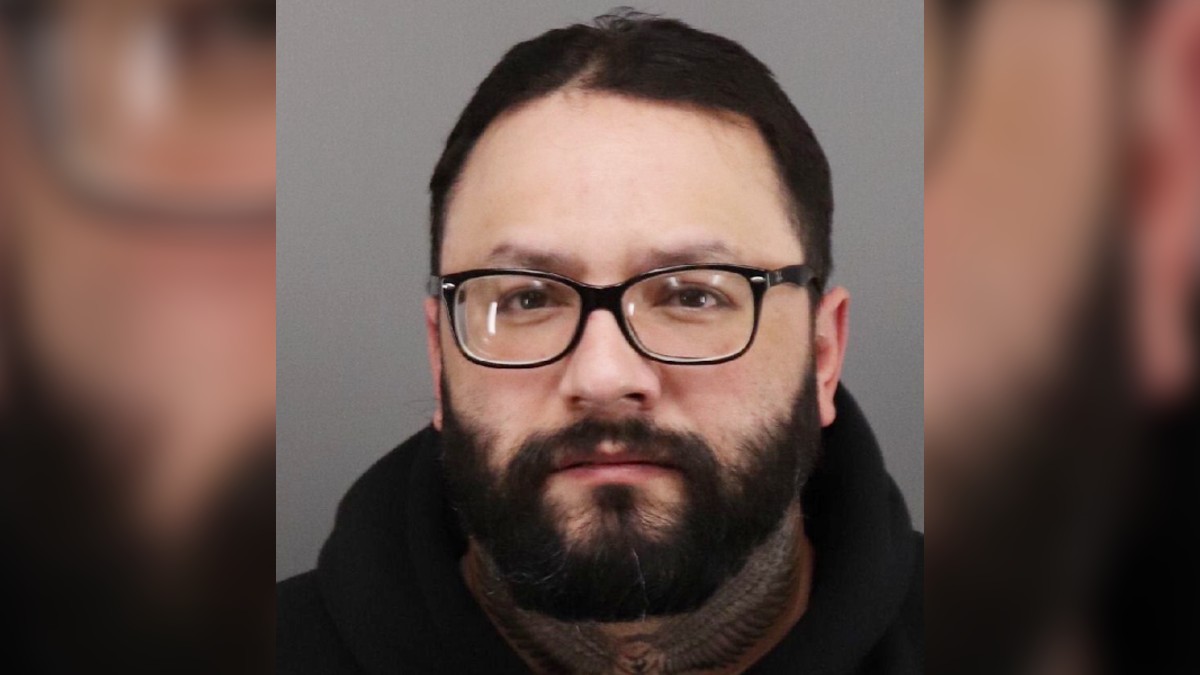 Police in San Jose, California, have taken Gabriel Carreras into custody after he allegedly fired at officers during a domestic disturbance on Wednesday morning.
The SJPD confirmed that a female officer was wounded and has been transported to a hospital. The unnamed officer is thought to be stable but in critical condition.
The suspect, 44-year-old Gabriel Carreras, allegedly barricaded himself into an apartment, causing the area to be sealed off and evacuated for several hours before he was eventually arrested.
The cops were called to an apartment near downtown San Jose after a woman, Carreras's wife, reportedly called the police accusing her husband of being drunk and trying to hit her. She said she locked herself in a bathroom, but Carreras allegedly broke the door down.
The female officer and her partner arrived at the scene at about 8:00 a.m. when they immediately received gunfire from an upstairs balcony. An officer was hit in her midsection below her bulletproof vest. She was reportedly wearing a body camera which was recording at the time of the shooting.
The second officer is credited with aiding their partner to safety and attending to their wounds before help arrived.
The two officers were both experienced, with ten years each on the force.
Watch the Latest on our YouTube Channel
San Jose police dealt with accused active shooter, Gabriel Carreras
The suspect retreated back into the apartment and barricaded himself in before the officers had a chance to return fire.
Police Chief Anthony Mata claimed the officers were "ambushed" and described the actions of the wounded officer's partner as "an act of undeniable courage that few of us will ever experience."
Special units reportedly evacuated other residents from the condo and made contact with the suspect. A standoff lasted about four hours before Carreras finally exited the apartment and was taken into custody at 1:17 p.m.
The cops recovered a firearm from the scene, but thankfully, the suspect's wife was not hurt, and nobody else was at the property.
According to Kron 4, Carreras is an ex-convict on active felony probation.
San Jose shooter arrest documented online by police department
The San Jose police noted the incident on social media. The department's media relations arm reported that their officers had taken gunfire, and one had been transported to a medical facility.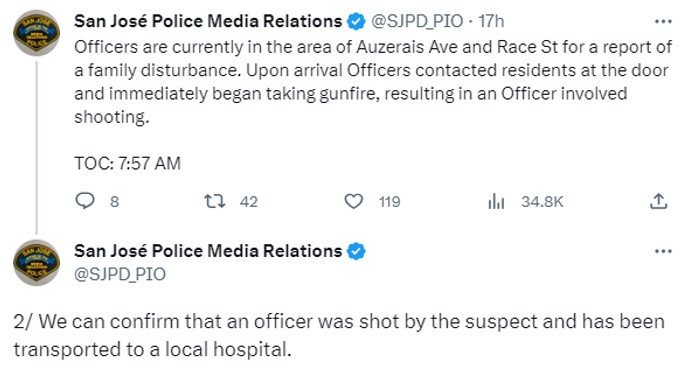 The cops later announced they had a suspect in custody but asked members of the public to continue avoiding the area of Auzerais Ave and Race St.

San Jose Mayor Matt Mahan posted to social media that he was "praying for the swift recovery of our @SanJosePD officer."
Mahon added that his thoughts were with the officer's family during "this unimaginably difficult time."

CBS News reported this was the second officer to be shot this year in San Jose while on duty.