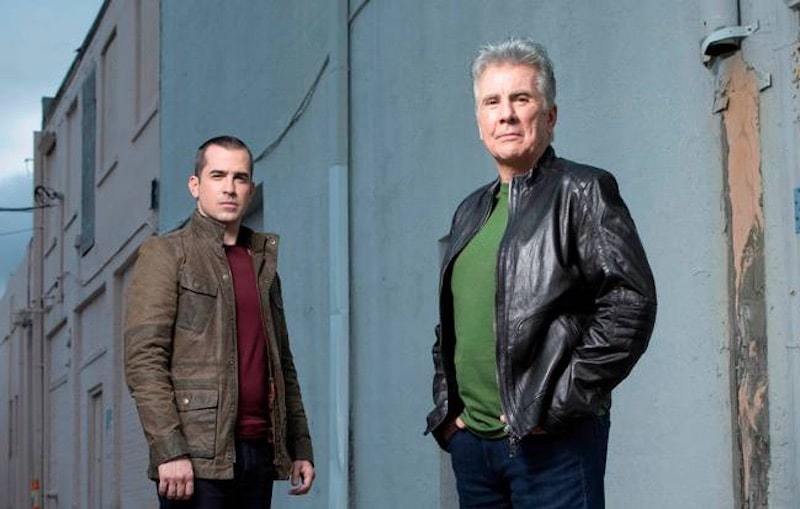 In Pursuit With John Walsh was a TV show that wasn't supposed to happen.
Walsh, who spoke to us with his son Callahan about their new Investigation Discovery venture, was adamant.
"I wanted to be a grandfather," he says, noting that the state of America is nowhere near "great again" status.
In fact, we are a more violent and dangerous a country than ever before.
Put politics aside, Walsh owns guns and loves to hunt. But he insisted too that many mentally ill people can get access to inappropriate guns (read: semi-automatic rifles) and is no fan of the NRA, saying it represents gun manufacturers and holds our congress and senators hostage.
In Pursuit With John Walsh was the result of Henry Schleiff, Group President of Investigation Discovery (and American Heroes Channel and Destination America), personally successfully petitioning former America's Most Wanted host John to come back to the smallscreen.
Walsh was also being peppered to come back out of retirement by the swamped police organizations he worked alongside for years. According to Walsh, they don't have the manpower to deal with unsolved murders and cold case crimes, and Walsh says "once great cities like Chicago" have stone cold brazen "dirtbags" and murderers walking the streets.
Watch the Latest on our YouTube Channel
In the premiere episode, John Walsh's docket includes the violent case of Luis Frias who killed his estranged wife in front of their children in 2013. Then, Callahan examines the bizarre case of Harold "Butch" Knight, who is featured in our exclusive clip below. He has been spotted in northern New England.
John Walsh is known all over the world as a tireless crime fighter and victims' advocate, and also won an Emmy as host of America's Most Wanted, the reality program that helped law enforcement capture more than 1,200 fugitives and brought home more than 50 missing children.
His career was born from personal tragedy. Back in 1981, it was the abduction and murder of his son Adam that set he and his wife Revé on the path to where they are today.
Walsh realized that the nation was in desperate need of leadership in the fight to protect children. Out of their pain, the National Center for Missing and Exploited Children (NCMEC) was created in 1984, after President Ronald Reagan signed the "Missing Children's Assistance Act."
The NCMEC was set up to help bring missing children back home. His own Callahan, a former producer for him on America's Most Wanted, is now front and center in the field with his dad for the new ID series.
In every episode, Callahan Walsh leads the operation on the ground, working with the community and local authorities to search for persons of interest.
From ID:
In partnership with the National Center for Missing and Exploited Children (NCMEC), the series will also feature two missing children each hour, providing age-progression photos and descriptions in the hopes that viewers can provide new leads to their whereabouts.
Henry Schleiff, Group President of Investigation Discovery and Travel Channel says:
"No one better personifies the idea that one person can make a difference in this world than John Walsh – he took unimaginable heartbreak and turned it into his life's mission to bring criminals to justice and find missing children. This is certainly one of the most important active investigation series we've created on ID because just a single break in a case could help law enforcement solve these crimes once and for all and, possibly, prevent further tragedy in the lives of families, across America."
"If at least one child comes home and one homicide is solved, we will have done our job," says John Walsh, who is both host and executive producer of the series.
John and Callahan dissect each story from top to bottom, utilizing interviews with surviving family members and friends, gathering new clues and combing the evidence in each case.

Weekly the show will pore over crime scene photos, telephone calls and accurate recreations, engaging the ID viewers' participation to help solve the crime at home.
We spoke to John Walsh and Callahan Walsh about this new series:
Monsters and Critics: Callahan, how did you prepare to work with the NCMEC before you started working with your dad?
Callahan Walsh: Well, I think it was many years of being volun-told to help out. I volunteered at the center — an organization that my parents co-founded and that's helped go on to recover more than 270,000 missing children — so at a very young age, I was very involved in the center and their activities. I sort of always knew, eventually, I would work there, someday. I just didn't know when.
In fact, before I worked at the National Center for Missing and Exploited Children full-time, I worked for my father as a supervising producer on America's Most Wanted.
I would produce his stand-ups and re-creations as well. And then I made the jump over to the National Center, which is my day job. Now, I'm glad to be joining my father on his new show, In Pursuit with John Walsh, on Investigation Discovery.
M&C: I'm sure you've been really following the Jayme Closs story, too, the poor girl in Wisconsin. Thankfully, she was found. How many cases are you actively involved with right now, as far as helping local law enforcement?
Callahan: We are actively working on over 22,000 cases at the moment. And that's both missing and exploited. There's so much that we do at the National Center.
I think people just think about these strange abductions. But runaways is a huge thing that we do there, looking for our endangered runaways. We know one in seven runaways is likely to become a sex-trafficking victim.
We have non-family abductions. We are the national reporting mechanism for suspected child sexual exploitation online, which is our cyber tipline that received more than 50 million reports since it's inception, 10 million reports last year, looking at possibly doubling it this year.
The work done at the National Center is incredible; the forensics unit, the age progressions. We know the most important tool when it comes to the recovery of a missing child is a photo of that child. So age progression is progressing these photos of children every two years, until they turn 18, every five years after that.
And continuing to look for these kids, we have victims who were abducted as children and are in there 50s and 60s now. We will never stop searching for these kids. We'll never give up hope because we know the families won't.
M&C: John, you have been doing this for so long. Are there any law enforcement agencies, or specific people that have been real heroes for you in your pursuit to find these children, and also to solve these cold-case crimes and these horrific murders? Are there any people that you really, through the years, have relied upon to help you in your mission?
John Walsh: Well, certainly, I've met a lot of wonderful law enforcement over the years. You know, last year, 2018 was the most deadly year for cops with 144 cops dying in the line of duty.
While I was doing the 25 years I hosted America's Most Wanted, I was at the groundbreaking of the Law Enforcement Memorial in D.C. and shot a show there every year, for 25 years; the only primetime show that acknowledged the sacrifice of law enforcement.
There's over 14,000 names of men and women on that wall who made the ultimate sacrifice. So, I guess I'm a hero to a lot of cops. I'm a sworn U.S. Marshal, which is a real honor, but they're my heroes.
And I've learned over years that the people who kept America's Most Wanted a primetime hit for 25 years were the reason for its success.
If you ask people to do the right thing…and I gave them the ability to do it, and I'm going to do it in Pursuit, call me. I don't have cops to answer the phone, I don't trace calls, we don't tap calls. Call me, I don't need to know who you are.
If you're illegal, I don't care. If it's your cousin, whoever it is, no cop is coming to your house. No aggressive Assistant D.A. is going to come and drag you into a trial. You just tell me where the dirtbag is, I'll figure out a way to catch him. And that's who has made everything I've done so successful.
I've testified in every state. I've testified before congress multiple, multiple times on legislation. And it's always the average person who helps me, helps me get the legislation through by talking to their congressman or their senator. It's the public who have made my shows hits and…it was a deadly year in America. I don't know why we're in such denial.
We had 307 mass murders last year, almost one a day. It [the definition of mass murders] used to be three people or more. Then the FBI changed it to four people or more. We had 144 cops murdered.
We had 27 school shootings, 33,000 gun deaths. And we are the richest, most powerful of first-world countries, but we're the most violent of all the first-world countries put together. In America, it's always, "Oh, what are the Kardashians doing? Who are they hanging out with now?", "Who's going to be in the Super Bowl?" We are just in denial about the level of violence.
I was ready to retire. I mean, I'm an old guy and I've been doing it for a really long time. But the FBI and Marshals said, "John, think of this. In Chicago, New Orleans, Detroit and Baltimore, the clearance rate of homicides…in all those cities are breaking records, particularly Chicago, the clearance rate, the solving of homicides, is down to 28 per cent in those cities.
So, people are walking around the streets of those cities who have gotten away with murder, bragging about it, the cops are overwhelmed, the criminal justice system is overwhelmed.
I'm coming out of retirement. I've known Henry Schleiff for years and I know how successful Investigation Discovery is, and he said, "The FBI and Marshals are driving me crazy to saddle back up", and I said, "This is the perfect place to do it, with Investigation Discovery".
We're going worldwide. The show will roll out in the United States, and Canada, and Mexico, and then South America, and worldwide. On AMW, I caught guys in 45 countries. There's no place on the planet with social media now that's safe.
Callahan has just got a brand new son…three months ago. And my daughter has a boy and a girl. I wanted to be a grandfather. I've been on the road my entire life. And I wanted to stay home, but America is in really bad shape, violence-wise, and everybody's in denial. People don't want to talk about it. It's a tough subject.
M&C: Right. And as you know, there is the gun lobby and very powerful people who don't want anything changed with those laws. So, it's a tough, uphill battle. And, I'm sure police are on both sides of that issue.
John Walsh:No, cops are for gun control and so am I. I hunt. I own guns. I own shotguns and pistols. But nobody needs automatic weapons. That coward in Las Vegas, it took 10 minutes for the SWAT team to break the door down in his room.
In 10 minutes, he shot 68 people…murdered them, and wounded 800 people, because he had assault rifles lined up. I think, 14 of them, bump-stocks, and super clips.
So he just sprayed a whole entire crowd. You never hear about those 800 victims of those shootings. Some are in wheel chairs paralyzed, et cetera, et cetera. We need better gun control. We need better background checks. We need more extensive…
We're the only first-world country that doesn't check the psychological profile of a person buying a gun. You can walk into a gun show and be a schizophrenic sociopath and say, "Hey, I want to buy a gun. I think I'm going to go out and kill people".
You know what the dealer at that gun show will say? "Let me see if you're a convicted felon. Nope, you weren't. Here, give me that $1200.00. I'll sell you an AK-47".
[And] 80 per cent of the schools shootings, when they caught the shooter, were very disturbed kids. Sandy Hook, Parkview, they're sociopaths, very disturbed kids that everybody knew about. You know, we have the Adam Walsh Act, or we have a sex offender registry.
But any psychopath in America, as long as they're not a convicted felon, can buy a gun.
We don't have gun control, and the NRA…they're not our lobbyists. There are gun manufacturers repped on Capitol Hill that terrorize members of Congress by saying, "If you vote for good gun background checks, we're going to campaign against you. We're going to take your seat that you've had for 20 years". So Congress is paralyzed by the NRA.
I've gone up there and testified, probably, more than any other American…maybe not, but I think so, and walked those halls up there. And we are a psycho, gun culture.
Nobody's going to take our guns away. Nobody's going to come to my house and take my shotguns. Nobody's going to stop me from hunting quail, which I love to do. Nobody's going to take my pistols.
The Second Amendment was created in case people in America needed to mount to militia for people that possibly would invade America, or try to take us over.
I don't think Canada is a big threat. I've been there a hundred times. 22 million illegal Mexicans came across the border for a better life, so I don't think Mexico's mounting an army to attack America.
So, this whole militia idea…if you want to own a gun, you should prove that you can own that gun, that you know how to use that gun. You know how to keep it away from your three-year-old grandson who's going to take it out of the nightstand and blow himself away.
We don't ever talk about that. Gun control, background checks, serious background checks…God, try to buy a gun in Switzerland. In the Swiss Army, when they retire, they can keep their guns because they've proven that they can handle those guns.
But try to buy a gun in New Zealand. Try to buy a gun in Australia. Try to buy a gun in England, Wales, Ireland, Scotland. They have background checks that mean things. They check your psychological well-being. They see if you know how to handle that gun.
We have five to six kids killed every week in this country by gun accidents. We're [America] a big, superficial, materialistic, wonderful place to live. And if people would ask me, "Oh, who's going to be in the Super Bowl?", I went, "Wow, do you know how many homicides there were in Chicago last year? Used to be a beautiful city. They're breaking records and nobody's going to jail for those homicides."
M&C: In Pursuit with John Walsh. How is it different from your previous TV efforts?
John Walsh: It's not going to be much different. [ID chieftain] Henry Schleiff's a friend of mine. He said, "Do America's Most Wanted. I don't have the big budgets of primetime networks like Fox does".
Callahan's my field reporter, works on the weekends, goes out, saves me from flying all over the country, talks to victims and cops. We are in partnership with The National Center for Missing and Exploited Children. So, we're going to have maybe four or five fugitives each show. We're going to have one or two missing children, because that gives those parents hope.
So, it's going to be very much like America's Most Wanted but it's on Investigation Discovery. We're going to be worldwide. I chose the partner. And I think people will react to it. I think people are going to say, "Hey, we need to help find these missing children".
And we've picked some horrible dirt bags. The problem is that we're probably turning down 250 cases a week. Cops are overwhelmed. They don't have the budget.
They have huge numbers of homicides unsolved. Social media victims all over America constantly ask me, "Will you please?", "I'm not getting the help", "My grandmother's murder is a cold case", "My son's molestation, the pedophile's at large".
There's 100,000 sex offenders who have cut off their ankle bracelets or refused to go to their parole or probation officer at large.
Our work is cut out for us. The toughest thing is that I can't do as many cases as I would like to do. But it'll be very much like America's Most Wanted.
Callahan: And this time around, we're really harnessing the power of the public through social media, as well. We're really relying on our viewers to engage with us on social media, using that tool to spread these images of both our missing children and our perps.
We know at the National Center the most important tool when it comes to recovery of a missing child is the photo of a child.
And the public can be the most important tool for law enforcement and the most important tool for us, with the tips that they provide us.
So, harnessing that ability through social media is going to be a real big part of this show this time around, as well.
From ID: About National Center For Missing & Exploited Children
Since 1984, the National Center for Missing & Exploited Children® has operated a hot-line, 1-800-THE-LOST® (1-800-843-5678), and has assisted in the recovery of more than 284,000 missing children. NCMEC also operates the CyberTipline®, a mechanism for reporting suspected child sexual exploitation, which has received more than 40 million reports since it was created in 1998. To learn more about NCMEC, visit www.missingkids.org or see NCMEC on Twitter, Facebook and Instagram.
*To engage with the show, viewers are encouraged to connect using the hashtag #TeamInPursuit and join the Facebook page at Facebook.com/InPursuitwithJohnWalsh, and connect on Instagram @InvestigationDiscovery or Twitter @DiscoveryID.
In Pursuit With John Walsh premieres on Wednesday, January 16 at 10/9c on Investigation Discovery.