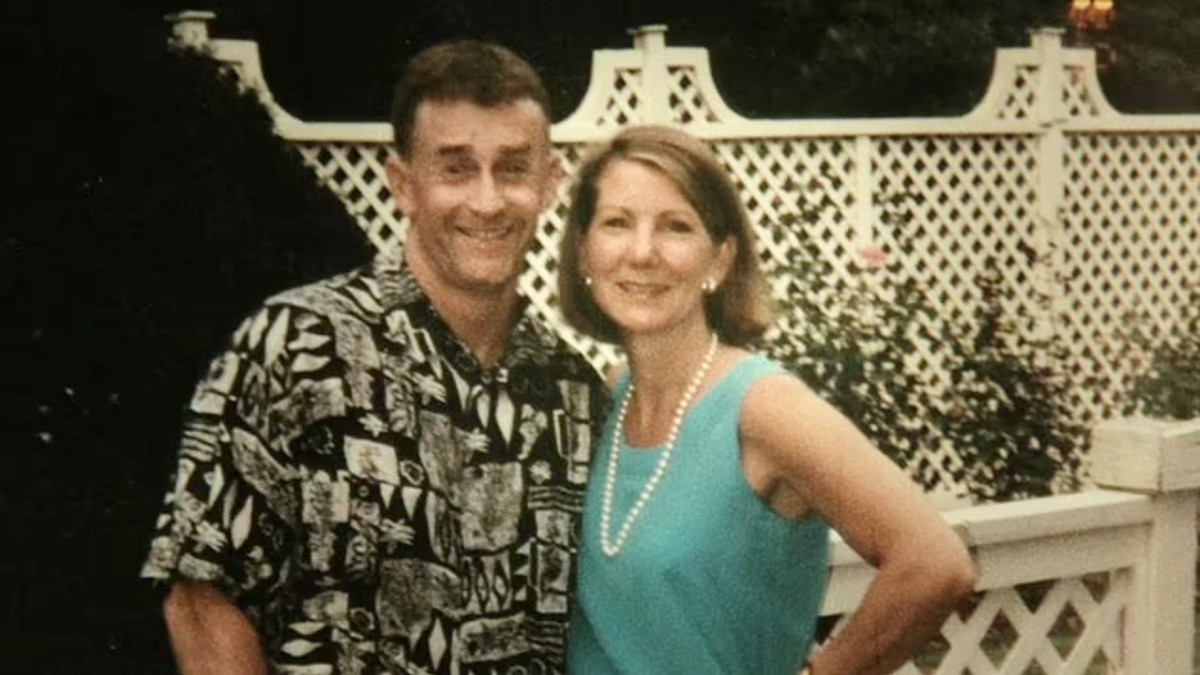 Dateline: Unforgettable is investigating the high-profile murder of Kathleen Peterson, who was found lying in a pool of blood at the bottom of a staircase at her home in Durham, North Carolina, in 2001.
Kathleen's novelist husband, Michael Peterson, was put on trial for the murder in 2003 and was convicted of premeditated murder and sentenced to life in prison without parole.
However, in 2011, an appeals court granted him a new trial after evidence emerged that a witness had lied on the stand in the original trial. But before the second trial could begin, Michael took an Alford plea, agreeing to plead guilty to voluntary manslaughter. He was subsequently released for time served.
On December 9, 2001, Michael called the police, telling them his 48-year-old second wife had fallen down the stairs at their well-to-do home in Durham. He claimed he had been out by the pool and came in to discover his wife had fallen.
Michael said his wife had been drinking alcohol and had taken valium, which was confirmed by the autopsy. The soon-to-be-disputed autopsy stated that she had died following a blow to the head from a blunt object. The cops concluded Michael had bashed his wife's head with a fireplace poker.
The defense would later push the theory that an owl had attacked Kathleen in the garden, causing her to run inside in fright and subsequently slip on the stairs.
Kathleen Peterson murder case received a lot of public attention
The trial garnered lots of media attention as Michael was a wealthy novelist, a former Durham mayoral candidate, and a Vietnam War hero turned potential killer.
Watch the Latest on our YouTube Channel
The case also turned up accusations that Michael was secretly gay and was leading a double life. There were doubts cast on the death of a family friend from when the Petersons were living in Germany. Elizabeth Ratliff was found dead at the bottom of a staircase in her German home in 1985; her death was ruled an accident.
Following Michael's 2003 conviction, a French film crew released a miniseries in 2004 about the murder and the trial. The Staircase streamed on Netflix and did a lot to keep the case in public. In 2022, HBO released a fictionalized version of The Staircase starring Colin Firth and Toni Collete as Michael and Kathleen.
Michael Peterson pleaded guilty to manslaughter but still claims innocence
The case had multiple twists and turns, continuing until 2017 when Michael took the Alford plea for voluntary manslaughter. A judge resentenced him to 64 to 86 months, but he was given credit for having already served 89 months and walked out a free man.
At the resentencing, Kathleen's sister, Candace Zamperini, told the court, "Alford, schmalford. It means nothing. Michael Peterson, you are pleading guilty to voluntary manslaughter. You will be treated as guilty for murdering my sister Kathleen, and you will be a convicted felon forever."
Michael continued to maintain his innocence and claimed he loved his wife and would never have hurt her.
Dateline: Unforgettable airs Wednesdays at 8/7c on Oxygen.