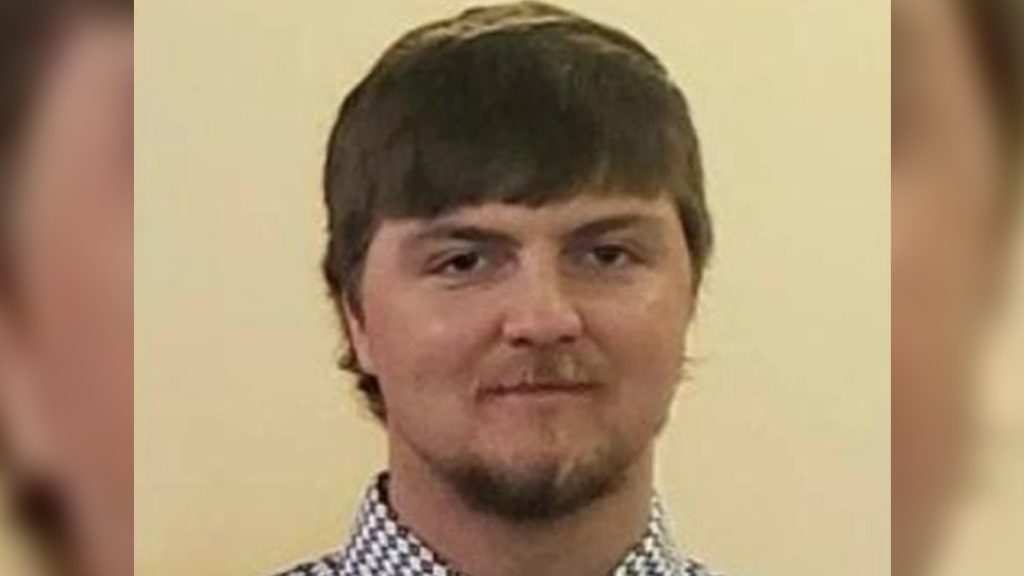 Chance Englebert is a young father and husband who disappeared in the summer of 2019 while staying in the town of Gering, Nebraska.
The 25-year-old from Moorcroft, Wyoming, had traveled with his wife, Baylee, and their newborn son, Banks, to stay with Baylee's family over the Fourth of July holiday.
Unfortunately, on July 6, 2019, Chance seems to have had an argument with his in-laws, and after becoming upset, he stormed off on foot and was never seen again.
Chance had been playing golf with his wife's relatives when a comment about his job angered him, and he called his wife to give him a ride home. When the couple was near the home they were staying at, Chance exited the vehicle and walked off.
Baylee would later say her husband would often go for walks when he was upset or wanted to blow off steam. She wasn't worried at this point, but sadly, he never came back.
Over the next couple of hours, Chance made numerous attempts to contact friends and family with his cell phone in the hope one of them could give him a ride back to Moorcroft. Unfortunately, none of his friends were willing to make the long journey to pick him up.
At one point, he told a friend that he was walking to Torrington, Wyoming, where he hoped to be picked up and taken back home. Torrington is approximately 35 miles northwest of Gering. However, in a call to his wife, Chance told her that he was walking south.
Watch the Latest on our YouTube Channel
Chance spoke to his friend and best man, Matt Miller, who later explained to News Nation, "He got in a fight with his in-laws and he was wanting to come back to Wyoming, to his house here in Moorcroft and needed a ride immediately. I was four hours away. It was just no way."
The Gering cops believe that Chance managed to walk north through Gering and the neighboring Terrytown before he made it to Scottsbluff, where he vanished without a trace.
Chance Englebert was spotted twice on surveillance footage
Chance was spotted by an eyewitness just before 8 p.m. when he walked past a Domino's pizza restaurant in Gering headed toward Scottsbluff.
The missing dad was also spotted twice by surveillance cameras. A couple of minutes after walking past the pizza place, the camera of a local business captured him walking past.
According to News Nation, the camera recorded Chance looking at his phone and then making a 90-degree turn to the left. There has been speculation that he may have been looking at a map.
His mother, Dawn Englebert, said of the footage, "I see a kid that had a mission and he knew he wanted out of town."
He was reportedly spotted on camera a second time, when a couple of hours later, another surveillance camera snapped him walking past an apartment block in Terrytown, to the north of Gering.
A mysterious text was sent from Chance Englebert cellphone
Shortly after 9 p.m., a final text message was sent from Chance's cellphone to his aunt. However, the message was indecipherable and only featured a series of seemingly random letters and a grumpy face emoji.
Chance's family claimed he would never use emojis in his messages, and there's been speculation that someone else may have sent the text. So far, the investigators have not been able to explain what the text meant.
Unfortunately, Chance's phone was running out of battery power. Chance's phone gave its final ping off a cellphone tower located on the western outskirts of Scottsbluff. And there have been no further clues about what happened to him since then.
At the same time as Chance was walking away from his family, a severe thunderstorm with heavy rain hit the area. It is suspected that Chance may have tried to find shelter in a bar or other building. But so far, there have been no definite reports of people seeing him take shelter.
There were some reports of a witness spotting an individual who might have been Chance sheltering under a tree in Terrytown, and a woman said she saw him crossing a bridge and running towards the nearby North Platte River. But these reports have not been collaborated.
Chance has not reached out to any friends or family members since that tragic night. There was no further activity on his cellphone, and there has been no activity on his debit cards or with his bank account.
An extensive search was subsequently launched by the authorities, one which stretched all the way from Gering to Moorcroft and beyond. Rescue personnel and volunteers used search dogs to cover an area that encompassed parts of Colorado as well as Wyoming and Nebraska.
The authorities searched the North Platte River, the Gering Central Canal, and all the lakes and ponds in the vicinity. In the first couple of months, Chief George Holthus told NBC News that 18 agencies were involved in searching 2,400 acres. He insisted, "We can say with relative certainty that Chance isn't in those areas."
Chance Englebert had no reason to leave home
Chance has now been missing for three and a half years, and it remains a complete mystery what happened to him.
Chance's family has stressed how he was a loving father who would never have walked out on his baby boy. Chance had recently lost his job when the 580 Blackjewel LLC mining company suffered bankruptcy. However, Baylee said he had already landed another post at Blakeman Propane in Moorcroft and was due to start work after the holidays.
Baylee stated at the time of his disappearance, "This is completely unlike him."
At the end of last year, Chance's grandmother, Linda Kluender, increased the reward fund from $20,000 to a whopping $220,000. She had inherited the money following the death of a family member and decided to put the money into the fund because all she wants is to know what happened to her grandson.
The Star Herald reported Kluender as stating, "My husband said to me, 'Linda, you can buy anything you want.' And I told him, 'Well, there's only one thing I want, and I can't buy that. And that's finding out where Chance is and what happened to him.'"
She added, "There's no price to be put on a baby boy. He would have been 29 on December 2."
Gering police have not given up the search for Chance Englebert
As of December 2022, Brian Eads of the Gering police remained the officer in charge of the ongoing case. Eads insisted that the case is still an open investigation and that any tips brought forward will be thoroughly investigated.
Eads also told the media, "We always try to treat things as a homicide until they're proved otherwise. At this point, there's no evidence to show that it is a homicide … but there really isn't … evidence to show that it's not, either."
The police have described Chance as being of medium build, 5 foot 9 inches, with lightened brown hair.
On the day he went missing, he was wearing a short sleeve button-up Wrangler shirt, dark blue Wrangler jeans, roper-style boots, and a black and white trucker hat.
The public is urged to contact Scotts Bluff County Crime Stoppers at 308-632-STOP (7867) with any tips. They can also contact the police department at 308-436-6667 or through its Facebook page or its website on gering.org.