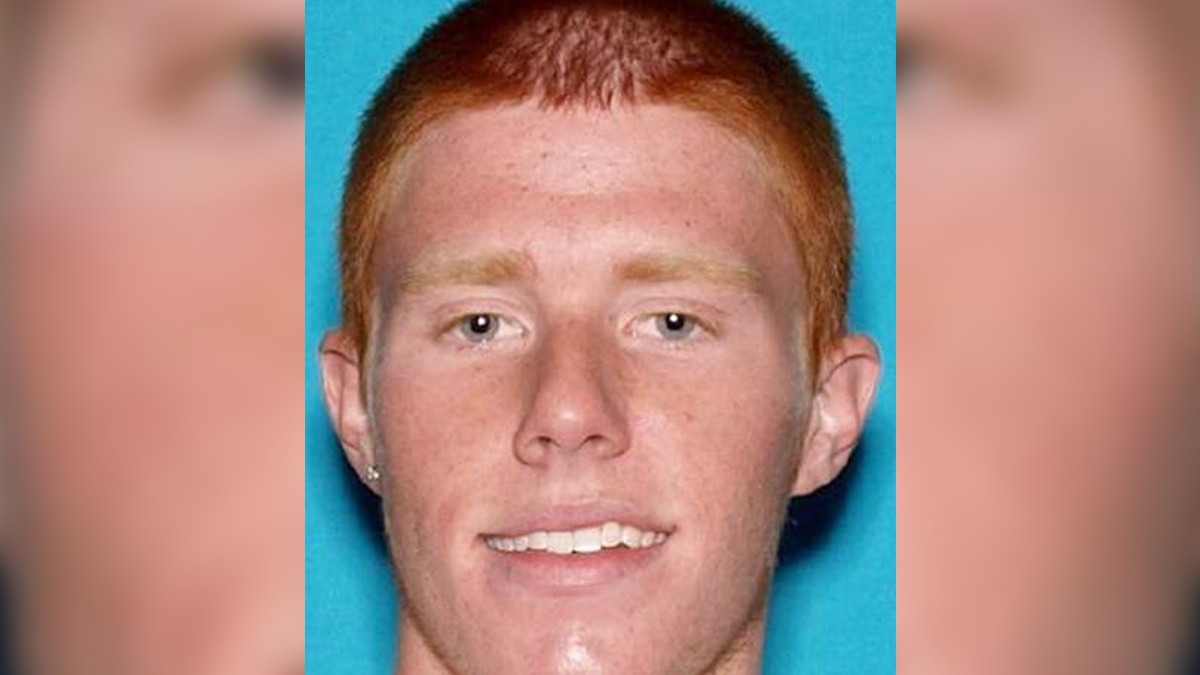 Bryce Laspisa was driving from Chico, California, to his parent's home in Orange County when he vanished near Castaic Lake in Los Angeles County in 2013.
On August 30, 2013, Bryce's abandoned and upturned car was found at the bottom of a ravine, but there was no sign of the teenager. He has not been heard from now in nearly 10 years.
It's thought that the college student may have been in a distressed state, but his family and the authorities are still baffled as to what happened to him.
At the end of summer 2013, Karen and Mike Laspisa dropped their son, 19-year-old Bryce, off at Sierra College near Sacramento, where he was about to embark on another school year.
Karen and Mike would later remark that Bryce had seemed to be in good spirits. He had enjoyed the summer staying with his family; he was contented and was ready for the year ahead.
However, just two weeks later, the Orange County based couple received a worrying phone call from Bryce and his girlfriend, 20-year-old Kim Sly. Kim told Karen that her son was behaving oddly and that she was going to take away his keys because she didn't want him driving.
Bryce also spoke to his mom; he told her he was fine but that he wanted to go home. After this call, Bryce seems to have embarked on a 20-hour journey that led him south from Chico to Kern County near Bakersfield and then to Castaic Lake in Los Angeles County.
Watch the Latest on our YouTube Channel
Karen and Mike are unsure where Bryce's journey ended because he has never been seen again. His car was found upended by Castaic Lake with his things inside. But there was no sign of him. It's been almost 10 years now, and cops and his family still have no idea what happened to Bryce.
Bryce Laspisa missing for nearly 10 years
In August 2013, Bryce and Kim ended their relationship. On the night of August 28, Bryce's roommate and Kim seemed to have become concerned enough that they telephoned his parents to let them know their son was behaving strangely.
Kim was worried enough about Bryce that she wanted him to stay at her apartment. But he insisted to both her and his parents that he was fine, he was ok to drive, and he just wanted to go home to his own apartment in Roseville, about 90 miles south of Chico.
On the phone, Bryce convinced his parents he was ok to drive, but Karen was worried enough to suggest she fly up there the following day. He told his mom not to book an airline ticket until he talked to her because he had "a lot to talk about."
To this day, Karen still agonizes over what her son could have wanted to speak to her about. They had parted company only two weeks previously, and the school term had only just begun. Karen and Mike remain baffled as to what was bothering their son.
Bryce got into his car and drove south but didn't stop at Roseville; he kept going into southern California in the middle of the night. He spoke to Karen again from his cellphone at about 2 a.m., when he told her he'd go to bed and phone her in the morning.
Karen had thought Bryce was in his apartment, but she later learned that he'd spoken to her from the middle of nowhere, miles south of his apartment.
The following morning Bryce's parents reported him missing when he failed to make contact, and they learned he was not at his apartment.
In the meantime, Bryce had run out of gas in Kern County near Bakersfield and had needed roadside assistance. He seems to have spent a large part of the day in the Buttonwillow area west of Bakersfield, about 350 miles south of where he started his journey.
At about 8 p.m. on August 29, Bryce was found by Kern County Sheriff deputies sitting in a rest area near Buttonwillow. The deputies searched the car and found no alcohol or drugs. They found him in good spirits, so they sent him on his way.
The last time anyone heard from Bryce was when he telephoned his mom at 2 a.m. on August 30, telling her he would pull over to sleep in a residential area.
At this stage, the cops and Karen believe he was trying to drive to his parent's home in Orange County. Unfortunately, he never made it home.
Belongings of Bryce Laspisa found, but no sign of the teenager
The following morning Los Angeles County cops discovered Bryce's beige 2003 Toyota Toyota Highlander lying on its side at the bottom of a 15-foot ravine by Castaic Lake. Inside the car were Bryce's clothes, laptop, and cell phone.
The back window of the car was busted out, suggesting Bryce may have crawled out.
The Los Angeles County Sheriff's Office launched a vigorous search party for Bryce involving search dogs, helicopters, and divers, but they found nothing, no sign of the teenager.
The family hired a sonar boat to examine the lake, along with a private investigator and a drone operator. But still nothing.
Just four days after Bryce disappeared, the cops found the charred remains of a body near Castaic Lake. His family prepared to hear the worst possible news; however, the remains belonged to another person, a homicide victim from Los Angeles.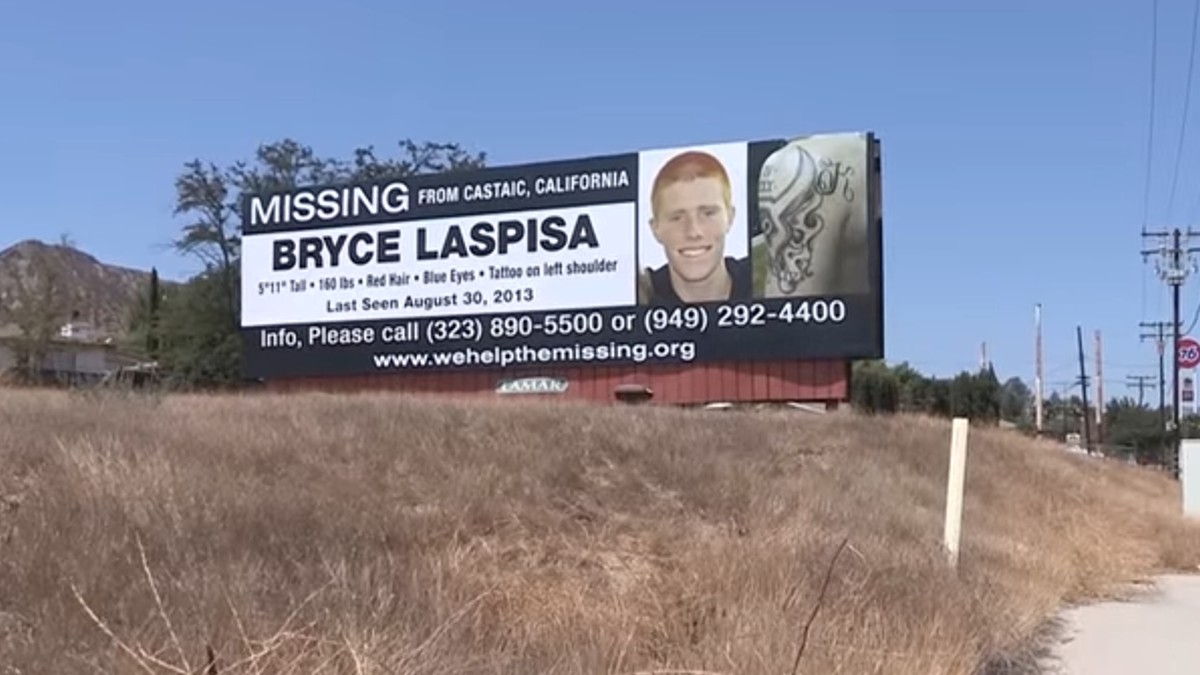 Bryce's family started a Facebook page, Find Bryce Laspisa, which they keep regularly updated. They also produced numerous flyers and even billboard posters, which were put up near Castaic Lake.
The family has also conducted numerous interviews in an attempt to keep Bryce's case in the public eye. Karen has said they are determined to "keep hope alive" and has pointed to stories of people being found years after they've gone missing.
Family and friends remain hopeful Bryce Laspisa will be found
Karen has also admitted that it's incredibly difficult not knowing what happened to her son, and she said some days are better than others. At one point during the search, Karen told reporters, "It's gut-wrenching, every day not knowing. It's a living nightmare."
Bryce's ex-girlfriend Kim told the media, "I've thought about every possible scenario about where he could be and what could've happened to him. I still remain hopeful that he is out there somewhere trying to get home, and I really hope that he will just show up or call anybody."
A former roommate, Nick Cavena, claimed that Laspisa had a troubled past and partied harder than other students. Cavena told reporters that Bryce had been evicted from their dorm the previous year by the college authorities and that he wasn't surprised that the teenager had disappeared.
Cavena claimed, "I expected nothing good could come from the path he was on." He also stated, "We didn't end on very good terms, but I mean, once I heard about it, it was very concerning, if he is found, he is safe, he needs help."
Bryce Laspisa update: Still no sign of the missing student
The families occasionally receive tips and even photographs from people claiming to have seen Bryce and his distinctive red hair. One member of the public claimed they had seen Bryce living with a homeless community in the mountains of Los Angeles County. Unfortunately, so far, all these tips have amounted to nothing.
Bryce was 5 feet 11 and weighed about 170 pounds when he disappeared. He has red hair and blue eyes. Other identifying features include a tattoo of a Taurus bull's head and a Roman numeral on his left shoulder.
Last year, The National Center for Missing and Exploited Children released an age-progressed image of Bryce showing how he would look at 28 years old.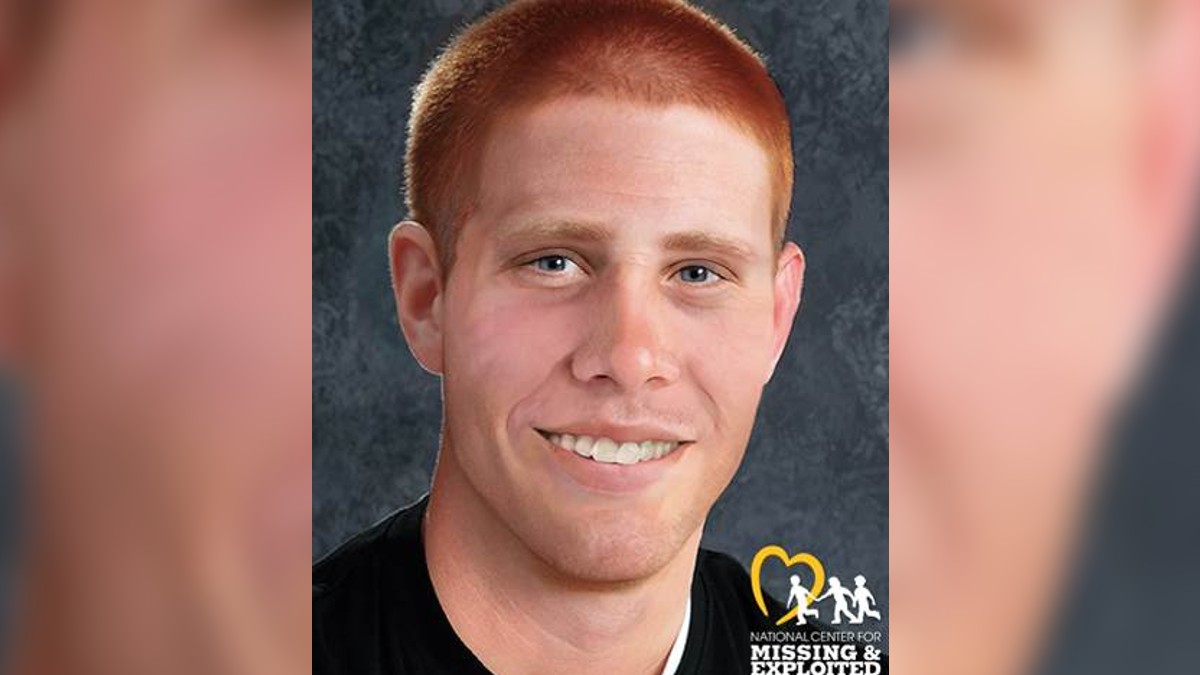 Anyone with any information about Bryce's whereabouts should contact the Los Angeles County Sheriff's Office at 1-323-890-5500. There is a $5,000 reward for information that leads to the discovery of Bryce's location.