Disappeared examines the case of Ashley Summers, who has been missing since 2007 when she was just 14-year-old.
Cleveland, Ohio, and Ashley Summers was staying with relatives, but after an argument she packed her clothes and left. She was last seen near West 96th Street and Madison Avenue, though she did reportedly make a call to her mother about a month later, saying that she was safe.
In 2013 local people were horrified but relieved when several young women were found alive after disappearing years before. They'd been held captive by school bus driver Ariel Castro, who'd imprisoned them and repeatedly raped and tortured his victims.
Ashley's parent were hopeful she might be one of the girls as they'd been taken from the same area, though a few years before. The girls turned out to be Amanda Berry, Gina DeJesus and Michelle Knight, with the Castro's crimes seemingly unconnected to Ashely's disappearance.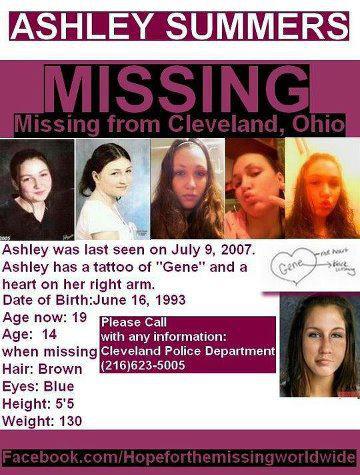 Then in 2015 her step-grandmother spotted a photo that had been posted on the Rhode Island Most Wanted website. It showed a young woman who looks remarkably like Ashley might now, her and the man in the car were wanted for using a stolen ATM card and caught on camera. The FBI sent the photo around the country in the hope that someone might have some information, but Ashley remains missing.
Since she disappeared the FBI have detected no social media postings by Ashley and there have been no reliable sightings.
Watch the Latest on our YouTube Channel
Cleveland Police told CNN that the case was still open and active.
You can check for updates on the case via the Facebook page set up for Ashley and you can contact the FBI via their website.
Disappeared – Edge of Fourteen airs at 8:00 PM on Investigation Discovery.