This week Horror at the Cecil Hotel examines the strange death of a man and woman who were found dead on the pavement outside the hotel, both having seemingly jumped.
In 1962 police were call to the scene and found two dead bodies, those of 27-year-old Pauline Otton and  65-year-old George Gianinni. At first they thought the two had perhaps jumped as part of a suicide pact or even fallen during some fight or accident.
However, more careful examination of the bodies showed that Gianinni was still wearing his shoes and with it being well known that jumpers usually lose their shoes in the process, this led them to look into deaths.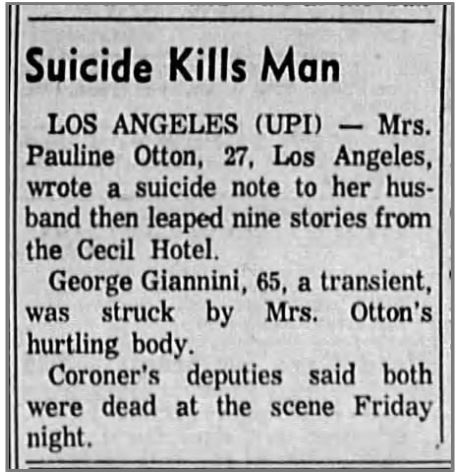 Turned out that Otton had written a suicide note to husband before leaping out of her ninth floor window only to land on transient Gianinni, who just happened to be in the wrong place at the wrong time.
Over the years dozens of people have leapt to their deaths from the floors of the Cecil but this is the only time someone jumping has managed to kill an innocent bystander in the process.
Horror at the Cecil Hotel airs Mondays at 10:00 PM on Investigation Discovery.
Watch the Latest on our YouTube Channel