This week A Crime to Remember investigates the crimes of Pearl O'Loughlin, who murdered her stepdaughter Leona and tried to poison her police detective husband Leo O'Louglin.
October 17, 1930, at a lake in Denver, Colorado, and the body of O'Loughlin was found in the water, two days after she'd gone missing.
An investigation of the body showed she'd been hit twice on the back of the head, but had not died from the injuries. She'd possibly lost consciousness, but the cause of death was determined by the coroner as either suffocation or drowning. Rather strangely they also found ground up glass in her intestines and stomach.
Meantime on the Wednesday she was reported missing the rest of the family all became ill. Her father, 44-year-old Leo O'Louglin, her stepmother, 32-year-old Pearl and her 7-year-old step-brother Douglas Millican all came down with various symptoms.
Pearl appeared to have some sort of poisoning and Leo was hospitalized with what seemed to be influenza. Leo's brother Frank also lived with the family but he did not eat with them and he remained healthy.
The police first worked on the assumption that either Leona had been kidnapped and murdered or had maybe fallen and drowned by accident. This line of investigation all changed when her grandfather, Dennis, told detectives that he'd found ground glass in his sugar bowl after the family had been over at his house for a meal.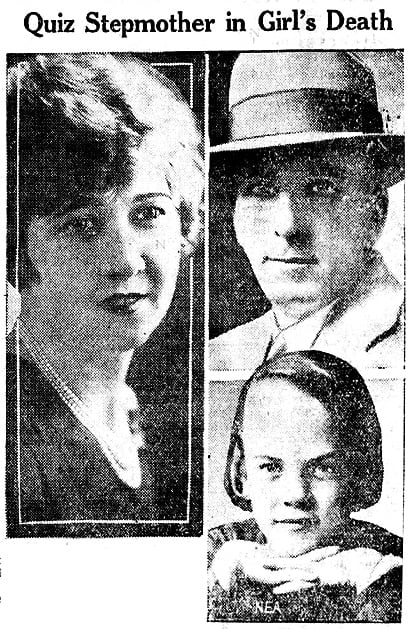 Detectives were now sure it was someone in the family who had tried to poison the others, and they brought in both Pearl and Frank for interrogation. They came to the conclusion that Pearl had been frustrated that Leona had not died after eating the glass and had then decided to finish the job and try to make it look like an accidental drowning.
Watch the Latest on our YouTube Channel
The motive they thought was life insurance money and with Leona being the current beneficiary of her dad's policy, killing her would leave the way clear to kill Leo as well and pocket the cash. They interrogated her for days and even took her to see Leona's body but she refused to admit she was involved, though she did say it was something to do with Frank.
Eventually she cracked and told police she would take the blame, though her lawyer stopped her signing a confession. Police charged both Pearl and Frank with first-degree murder.
Pearl did not have an alibi for the night of the murder and the family car contained a towel and tire iron that both had blood on them. She also gave some misleading account of her movements on the night and even her husband Leo testified against her.
She was convicted of the murder and given a sentence of 62 years to life.
Charges against Frank were dropped, but he died in 1946.Leo remarried but and passed away in 1956, aged 68.
Pearl was paroled in 1951 after 19 years and died in San Diego at the age of 88.
A Crime to Remember – A Woman's Place airs at 10:00 PM on Investigation Discovery.