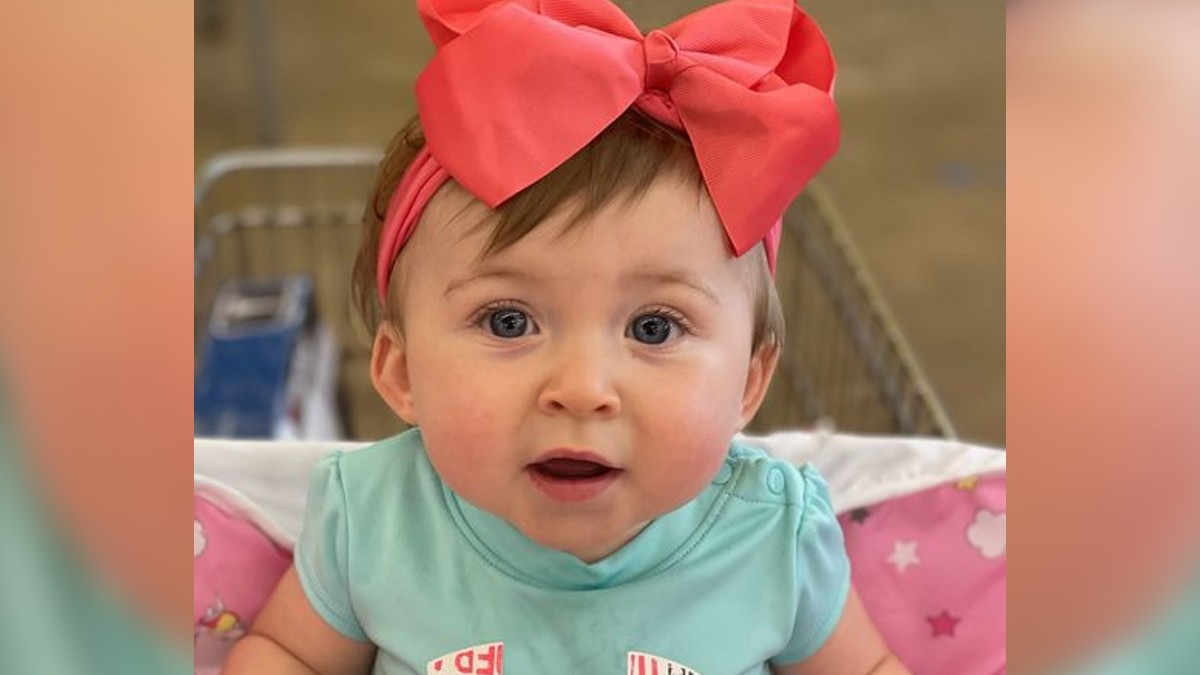 The Parrish Police Department has announced they have found Harlow Darby Freeman alive, and the Amber Alert has been canceled. The baby had been missing from since the car she was sitting in was stolen on Monday evening.
The police have so far not given any statements on whether anyone has been arrested or if the car was recovered.
The child was abducted outside a home in the Crest Avenue area of Parrish in Walker County at about 6:30 to 6:50 p.m.
Harlow's mother, Bethany Smith, had appealed directly to the kidnappers, asking them to please return her baby.
The cops appealed to the public to be on the lookout for a white 2009 Lexus RX350 with an Alabama registration number 3880AR8. The SUV is said to be damaged on the rear passenger side, where it has been taped with clear tape. It's unclear at this time if a member of the public was able to contact the police with vital information.
It's reported that Harlow's father had briefly run into a friend's house only to return to find the car and his daughter had been taken.
Amber Alert for Parrish Alabama canceled after Harlow Freeman is found alive
On Tuesday morning, Parrish Police Chief Danny Woodard told the press that they are utilizing all available resources in the search for Harlow. Woodard emphasized that finding the baby was the number one priority, and he thanked the community for their support and prayers.
Watch the Latest on our YouTube Channel
However, within a few hours, it was announced that Harlow had been found alive.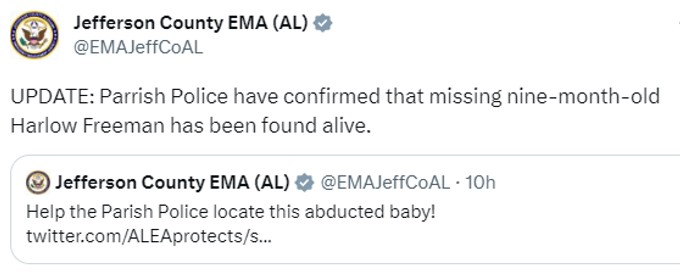 Bethany Smith asks kidnapper for her 'baby back'
Harlow's mother, Bethany Smith, had been appealing to the kidnappers on Facebook. She wrote in a post, "If you're reading this and you know anything. All I ask is for my baby back. Y'all can keep the car!!!!! Just bring me my baby and no questions asked!"
Smith said her baby was sitting in her car seat on the back seat of the SUV when it was stolen.
In follow-up posts, Smith again appealed directly to the kidnapper, begging them to drop Harlow off somewhere, with no questions asked.
She also asked that people "continue to pray that the baby is found!!!"
The family was offering a reward of $5,000 for Harlow's safe return.
Harlow was said to be in "extreme danger." The Parrish PD posted a photograph of the baby with a red bow on Facebook in the hope someone would recognize her.
The Parrish Police Department asks anyone with any information about Harlow to call 205-686-9991 or 911.