Lt. Joe Kenda of Investigation Discovery's Homicide Hunter has been out promoting his new book, I Will Find You.
Kenda needs little introduction to anyone interested in true crime and has an illustrious career as a law enforcement officer. He investigated 387 murders during his two decades as a homicide detective with the Colorado Springs Police Department and had a very high rate of success when it came to solving them.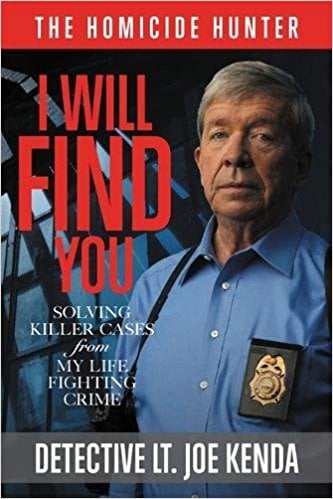 I Will Find You: Solving Killer Cases from My Life Fighting Crime, takes you behind the scenes of some remarkable and shocking crimes, together with the fascinating investigation process that results in them being solved. It includes some cases that were just too disturbing for the TV show and some crimes that Kenda says have haunted ever since.
In a Facebook Live interview Kenda says that the cases involving children upset him the most. He also explains that most of the murders happen when people's emotions override their thinking. They get distraught or angry and then they act and interestingly he says in many cases they are profoundly sorry after the murder, though too late for the victim.
He also says that there a few people who are truly evil, those who would continue to murder if they were not caught.
On the many excuses given to him over the years Kenda says that people tend to lie very badly, think they are very clever but usually they are not.
The book is out now and watch out local press for any local signings Kenda might be doing.
Watch the Latest on our YouTube Channel